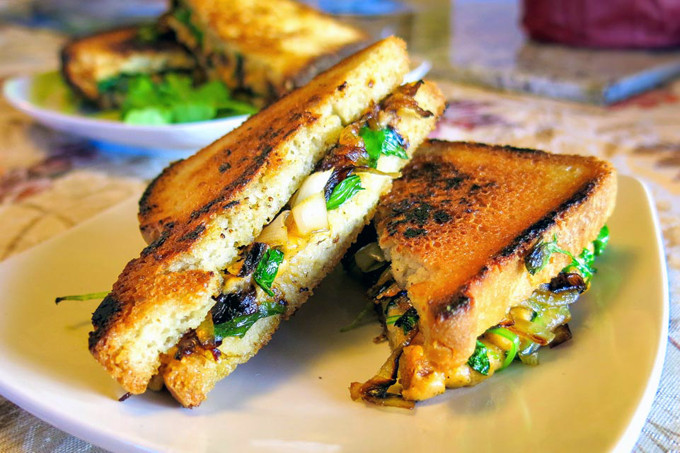 My meltable vegan cheese makes the best grilled cheese sandwiches. Most often, I just put some cheese on a slice of bread and fry it up. Like I mentioned in my previous post,  that cheese makes the most amazing open-faced grilled cheeses, because you can fry it face-down on a nonstick skillet until it gets that insanely delicious crisped skin to it. And it doesn't stick to the pan or make a gooey mess or anything. So cool. And so quick and easy.
But there are times when I want to take a little more time to dress up my grilled cheese – and turn it into an actual sandwich. A couple of slices of my favorite bread (I use a delicious gluten-free bread from a local bakery), some quick-caramelized onions, a handful of fresh arugula, and some thick slices of my dairy-free cheese. The cheddar-style cheese is crazy good in this sandwich, but I'm also partial to the garlic cheese as well.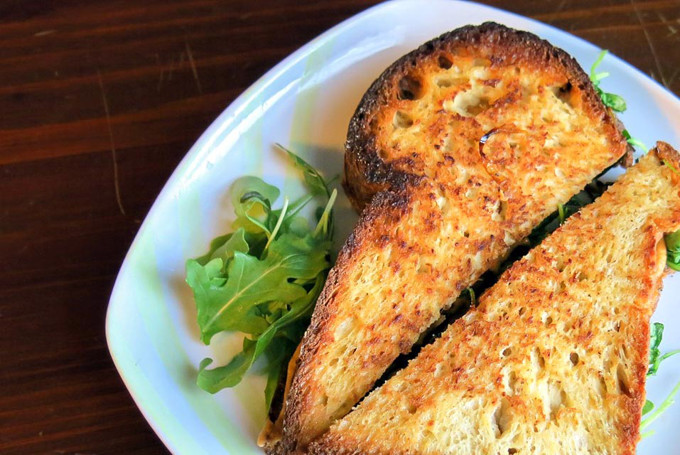 Serve this grilled cheese sandwich with a light green salad and a cup of tomato soup to make a meal out of it. Enjoy!
And click here for the recipe for my nut-based, soy-free, meltable dairy-free and vegan cheese!
Best Ever Vegan Grilled Cheese
Caramelized onions and fresh arugula dress up this delicious grilled cheese sandwich. It's so good, you wouldn't know it was vegan.
Author:
Magda | ideliciate.com
Ingredients
1 large onion, chopped or finely sliced
2 tablespoons vegetable oil for frying
sea salt to taste
2 slices of your favorite sandwich bread
thick slices of cheese to cover (see above for the link to my dairy-free cheese)
1 handful fresh arugula
1-2 tablespoons Earth Balance buttery spread or oil
Instructions
Heat vegetable oil in a large skillet over medium-high heat until a drop of water sizzles in it. Add chopped or sliced onion and reduce heat to medium. Add a generous amount of sea salt to taste. Saute onions, stirring occasionally, until browned and crispy, about 10-15 minutes.
Place a thick layer of cheese on a slice of bread, then cover with caramelized onions and a small handful of arugula. Top with second slice of bread.
Heat Earth Balance or oil in small skillet over medium-high heat until melted and hot. Place sandwich in pan and fry for several minutes on each side until bread is browned and crispy. Serve immediately.