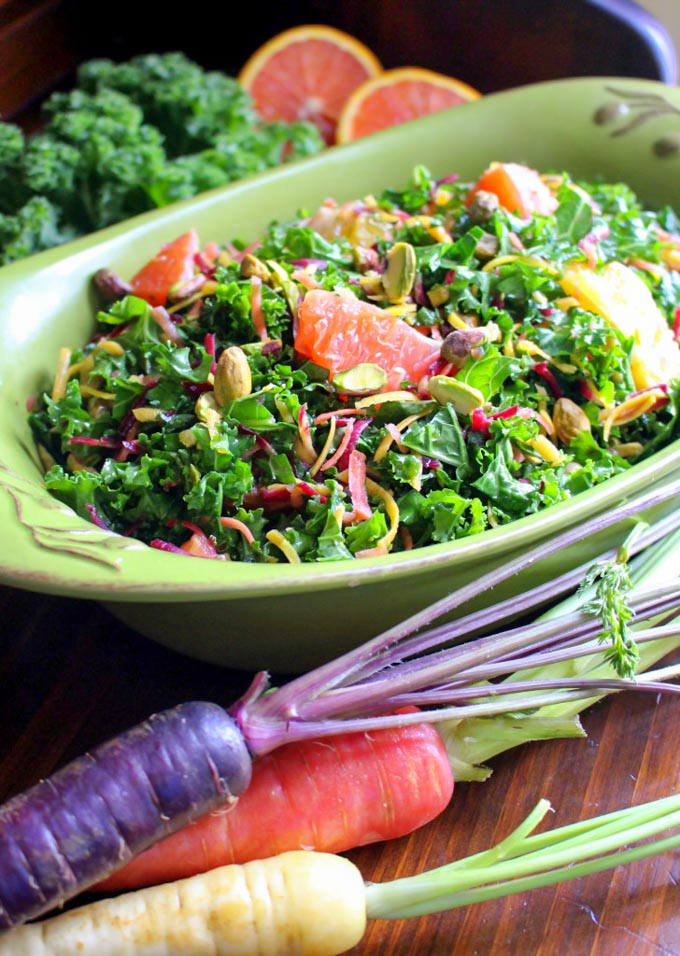 February is apparently the month of salads. And here's yet another one for you!
Yeah, so I've been making a lot of salads lately. And that's totally fine in my book. I love me a good, quick salad when I'm short on time. And lately, I feel like I'm perpetually short on time.
I had to get a little creative with this one, and to be completely honest, once I'd come up with the recipe for this, I wasn't entirely sure how well all these ingredients would go together… But one bite and I was a believer. This salad rocks.
Super quick and easy to throw together, this salad is made of shredded carrot mixed with fresh chopped curly kale and bite-sized pieces of citrus, dressed with a homemade orange sherry vinaigrette, and garnished with pistachios and (optionally) parmesan. Tangerines or mandarin oranges would be perfect in this salad, but I didn't have any on hand, so I used a mix of Valencia and Cara Cara oranges instead. Just use whatever citrus fruit you like best! I also used orange, yellow, and purple carrots for that extra pop of color. I'm such a sucker for colorful food.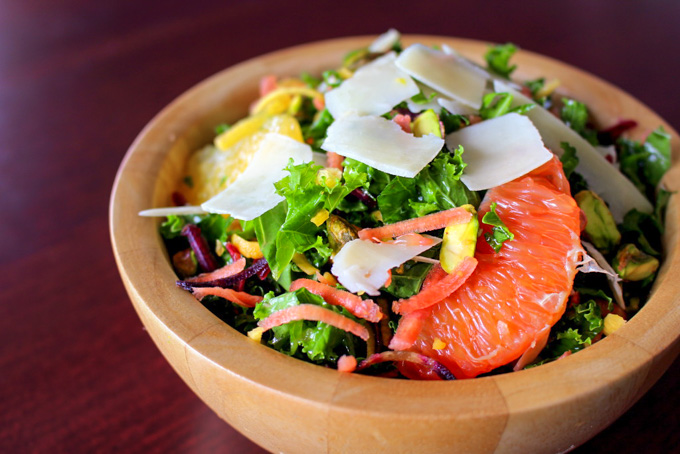 Citrus, Carrot, & Kale Salad with Pistachios
This delicious winter salad is made of chopped curly kale, shredded carrots, and your favorite citrus fruit, dressed with a simple orange-sherry vinaigrette, and topped with pistachios and parmesan.
Author:
Magda | ideliciate.com
Ingredients
DRESSING:
3 tbsp extra virgin olive oil
2 tbsp sherry vinegar
2 oranges, juiced (about ½ cup of juice)
dash of lemon juice
1 tsp dijon mustard
dash of salt & pepper
SALAD:
1 large bunch curly kale
3-4 carrots, peeled and shredded
3-4 oranges, tangerines, or other citrus, peeled and cut into bite-sized pieces
½ cup pistachios
shaved parmesan to garnish (optional)*
Instructions
To make the dressing:
Combine all ingredients in small bowl and whisk with fork until well combined.
To make the salad:
Remove the stems from the kale and finely chop into small, bite-sized pieces.
Place the chopped kale in a large bowl, add carrots and oranges and toss to combine. Pour dressing over salad, and toss until evenly distributed.
Garnish with pistachios and shaved parmesan, if using.
Notes
*To make vegan, omit parmesan.