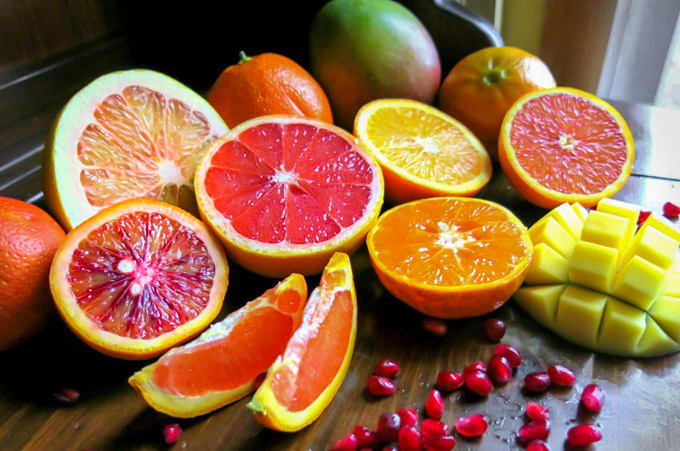 I love how citrus fruit happens to come into season at a time when you're hard pressed to find most other fruits, save for some long-storing apples or pears. I certainly don't need to be eating oranges and tangerines in the middle of the summer, when there's a glut of berries and melons and tree fruit to enjoy. But right now, all that fresh, bright, flavorful citrus is irresistible.
This salad makes the most of all of the different types of citrus that are fresh and available in the winter months. You can use whatever citrus fruits you like. The ripe mango adds a natural sweetness that pairs well with the more tart fruits like grapefruit, but you can skip it for some sweeter citrus if you have a sweet tooth or want to serve this salad as dessert.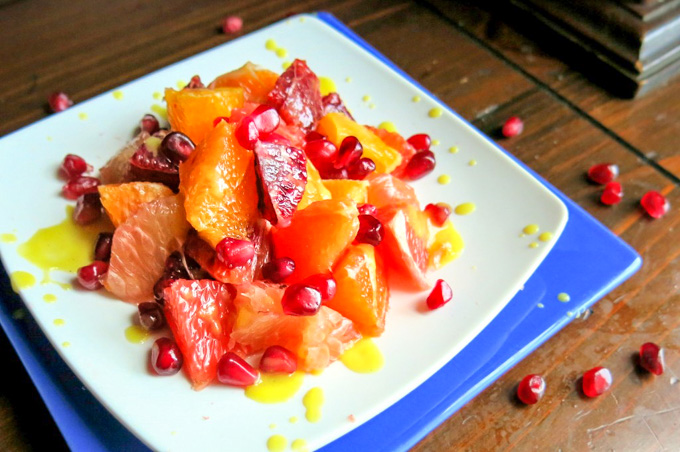 I made a double batch of this recipe and ended up using the following citrus fruits:
1 grapefruit
1 pomelo
3 blood oranges
2 navel oranges
2 cara cara oranges
2 honey tangerines
Citrus fruits are loaded with vitamin C, which is the primary antioxidant in the body, preventing damage to cells from harmful free radicals. Vitamin C is important in maintaining a healthy immune system and can improve inflammatory conditions such as arthritis and asthma.
Citrus-Pomegranate Salad with Mango Vanilla Bean Dressing
This easy winter fruit salad makes the most of seasonal citrus fruits and pomegranates. A fresh mango dressing infused with vanilla beans sweetens it up a bit.
Author:
Magda | ideliciate.com
Ingredients
5-6 whole citrus fruits, any combination*
½ cup pomegranate seeds
1 cup chopped mango (about half a mango)
¼ cup almond milk
half of a vanilla bean pod
Instructions
Peel and chop citrus fruits into bite-sized pieces. Place into a large bowl, and add pomegranate seeds. Toss to combine.
Remove vanilla beans from pod by cutting the pod in half lengthwise and scraping out the seeds or beans.
In a blender, combine chopped mango, almond milk, and vanilla beans and puree until smooth. Pour over fruit and enjoy!
Notes
*I recommend throwing in a grapefruit or pomelo to balance out the sweetness of the dressing, but you may use any combination of citrus fruits you like. See above for the fruits that I used.