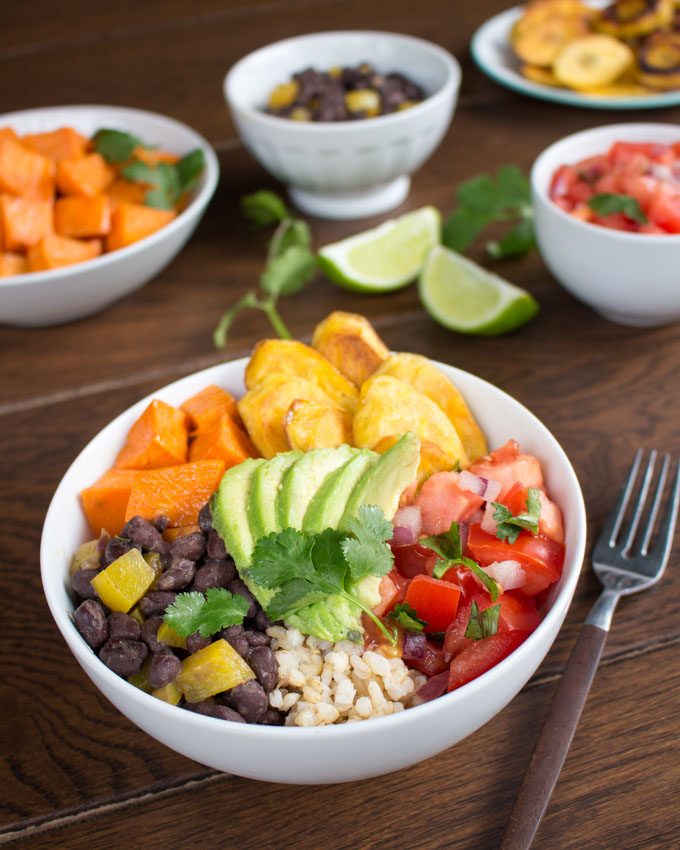 I'm always a fan of a good rice and bean bowl. They're usually super easy to throw together, infinitely customizable, and if you make a big ol' batch, you can pack it up ahead of time and have lunch taken care of for days. That's just my style.
This bowl is inspired by Cuban ingredients and flavors, and it uses the recipes for my Fried Ripe Plantains (which are oh-so-delicious and super easy to make) and my Oven-Roasted Orange-Lime Sweet Potatoes (which are the perfect candidate for make-ahead, large-batch cooking). On a bed of brown rice and paired with some seasoned black beans, fresh tomatoes and avocado, seasoned with lime juice and garnished with cilantro… How can you go wrong?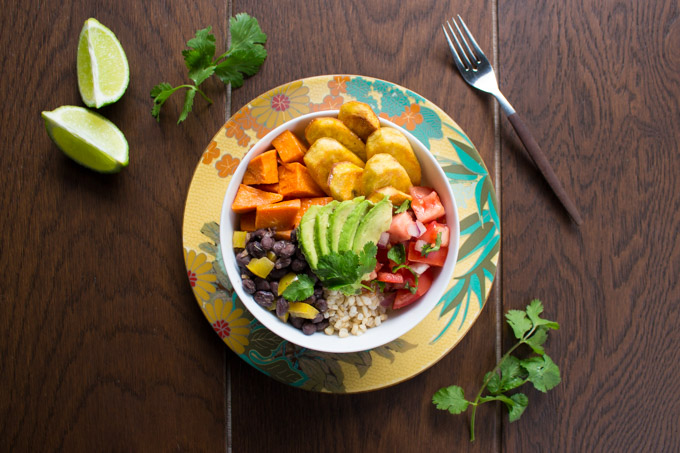 And the flavors in this bowl? OMG. A little bit sweet, a little bit salty, with just the right amount of zesty thrown in, this bowl is anything but boring. The black beans add protein, the avocado gives it that creaminess, it's packed with fiber, and you know with all those colors coming together that it's absolutely loaded with vitamins and nutrients. Ugh, I'm such a sucker for anything that's this colorful. Eat the rainbow, right?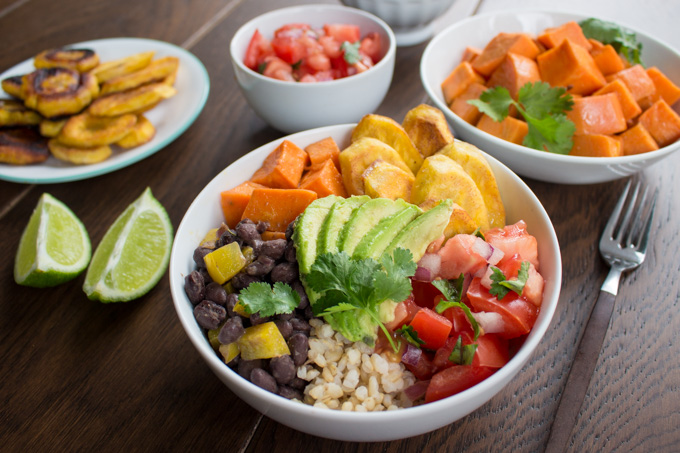 Cuban Rice and Bean Bowl with Fried Plantains and Sweet Potatoes
A hearty, delicious Cuban-inspired bowl that's packed with flavor and nutrition. Brown rice and seasoned black beans are combined with zesty, citrus-roasted sweet potatoes, sweet fried ripe plantains, fresh tomatoes, avocado, cilantro, and lime. Totally plant-based, vegan, and gluten-free, this bowl can be served hot or cold and makes a perfect make-ahead lunch to pack for work or school!
Author:
Magda | ideliciate.com
Ingredients
2-3 cups cooked brown rice
1½ - 2 cups Oven-Roasted Orange-Lime Sweet Potatoes
1 can (or 1¾ cups) cooked and drained black beans
1 small bell pepper, diced
1 teaspoon red wine vinegar
1 clove garlic, minced
½ teaspoon ground cumin
½ teaspoon dried oregano
1 small avocado
1 large tomato, chopped
2 tablespoons diced red onion
1-2 tablespoons chopped fresh cilantro
fresh squeezed lime juice to taste
salt and pepper to taste
Instructions
Prepare Oven-Roasted Orange-Lime Sweet Potatoes and Fried Ripe Plantains as directed.
In small saucepan, combine cooked black beans, bell pepper, vinegar, garlic, cumin, and oregano. Add a few tablespoons of water if necessary and bring to a simmer. Cook for about 5-6 minutes or until heated throughout.
Toss the chopped tomato with the diced red onion and some of the cilantro.
Warm up brown rice and sweet potatoes, if desired, then assemble the bowls however you like, making sure to use all of the ingredients. Top with avocado and cilantro, season to taste, and serve with a couple of lime wedges. Enjoy!