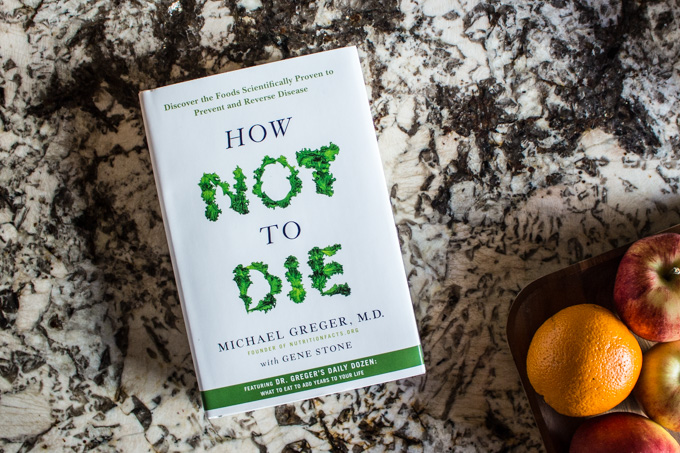 When Dr. Michael Greger was a child, his grandmother, who had struggled with heart disease for years and had undergone so many coronory bypass surgeries that another was out of the question, was all but written off by conventional medicine and, at age 65, given only weeks to live. As fate would have it, she happened to see a segment on TV about a physician who was successfully reversing terminal heart disease in his patients through diet and lifestyle changes. In desperation, she soon checked herself into his program, arriving with crushing chest pain and completely wheelchair-bound, unable to even walk without pain. Within three weeks, on a healthy diet and new exercise regimen, she was walking ten miles a day. She went on to live another 31 healthy years to the age of 96.
Dr Greger credits his grandmother's dramatic turnaround as a primary source of inspiration for his desire to become a physician as well as a large influence on his belief that diet plays a major role in determining one's health outcomes. He's been trying to spread the word ever since.
The founder of the website NutritionFacts.org, Dr. Greger has been attempting to educate the public about nutrition and the effect of diet on health throughout his whole career. I find it inspiring that he does this mainly as a labor of love, because he's truly passionate about spreading this information and not because he's trying to make a buck by jumping on the fad diet bandwagon. He either donates all of his proceeds from his books and speaking fees to charity or uses them to support his informative not-for-profit website. I think that's pretty cool!
You know, there's not much money in publicizing the beneficial health effects of… well, vegetables. And the fact of the matter is that our health system and the medical industry as a whole is profitable only when people are not healthy. That's why you will rarely get real, unbiased dietary advice from your doctor. Not only do physicians receive little to no education on nutrition in medical school, but they make their living by prescribing medications or medical procedures, many of which are less effective than simple dietary changes (and often dangerous to boot).
Even though the scientific literature has proven that you can actually reverse heart disease through diet alone, there's not much of an incentive to the medical community to publicize this information. I mean, did you know that you can cure the leading cause of death in the United States (and many other industrialized nations) simply by changing the way you eat? Not everyone does. But they should.
Dr. Greger's book, How Not to Die: Discover the Foods Scientifically Proven to Prevent and Reverse Disease, is all about the link between food and health. It's a long read (or listen – you can also find it as an audiobook), but it's chock full of tons of really interesting facts about food and nutrition and it's still totally readable. Dr. Greger's writing style is personable and he writes with a sense of humor, so it doesn't feel textbook- or lecture-like.
How Not To Die: How to Avoid the Most Common Causes of Death by Changing the Way You Eat
Part 1 of the book consists of 15 chapters on each of the 15 leading causes of mortality in the United States. Each chapter explores the link between one's personal dietary choices and the development, prevention, or even reversal of the conditions or diseases in question.
This book is very science-based, and there is a clear and transparent examination of the relevant scientific literature throughout. The appendix that cites all of the studies and sources that were referred to is 132 pages long! (And in small print, I might add.)
Dr. Greger provides many specific recommendations as to what foods he would advise patients to eat or avoid in order to prevent or treat each of these particular conditions, but he mainly leaves the reader to draw their own conclusions based on the presented evidence. However, I also think that he does an exceptionally good job at reminding readers of the limitations and biases of specific studies. You get the sense that he's trying to remain as unbiased as possible.
The Daily Dozen: What to Eat to Add Years to Your Life
Part 2 of the book gives more detailed recommendations on what to eat, based on Dr. Greger's "Daily Dozen" – specific categories of food (plus a daily dose of exercise) in the servings that the science has shown to be most conducive to optimal health.
I love that, once again, he backs everything up with scientific findings so that you know exactly why he's making the recommendations he's making. This book perfectly outlines what I like to think of as "evidence-based eating."
And here's what I like most about his approach: it's not a "diet". At no point does he say that you have to give anything up. And while, by the end of the book, you might feel as though you've been beaten over the head with all of the evidence ever that plants promote health while meat and dairy promote disease, it doesn't at any point feel as though Dr. Greger has an agenda to convert anyone to vegetarianism or veganism. He emphasizes that there are no good or bad foods, only better and worse food choices.
What I especially love about his "Daily Dozen" is that there is absolutely no emphasis on exclusion of any foods whatsoever. In fact, I find that focusing on the inclusion of particular foods crowds out the less healthy stuff just by default, without leaving you with the feeling that you're depriving yourself because you can't have something. You can still eat a cupcake or a steak or a bag of potato chips – it just doesn't count for anything, and you're not deluding yourself by thinking it's one of the better choices you could have made.
Overall, you're left with the conclusion that can be drawn from many similar recent publications. The best, most nutritious, most health-promoting diet is one that is made up of unprocessed whole foods – mostly plants. And we would all do well to eat more plant foods while cutting back on the amount of animal foods we consume – at least if disease prevention, health, and longevity is something that we are at all interested in. As we should be. Because, you know, we're alive. And I don't know about you, but I'd sure like for it to stay that way for a good long while yet.
---
…

I loved this book and I want you to love it too, so I'm giving one away for free! Enter for a chance to win your very own copy below. Good luck!
---
This post contains Amazon affiliate links for the reviewed product. (When you click on one of the links and make any purchase from Amazon, I get a tiny kickback at absolutely no charge to you. If you've gotten anything of value from this site and want to say "thanks," you can click through to Amazon from one of these links and any purchase you make will help support my blog. Thank you!)