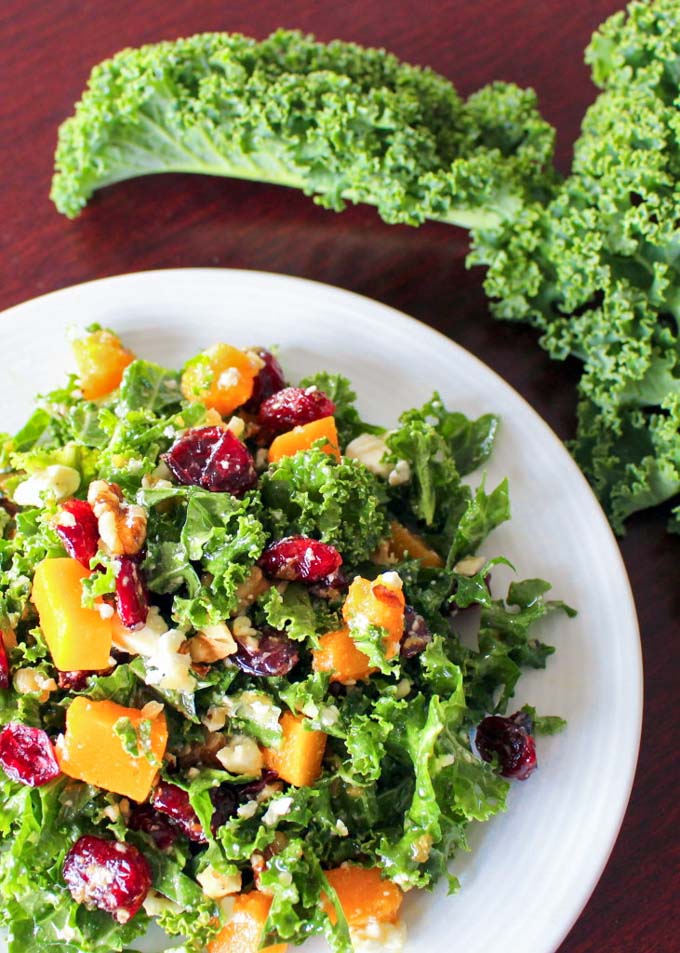 Winter is definitely kale season. While you can pretty much grow kale year-round in a temperate climate, it's sweetest and most flavorful in the winter, after it's been through a few frosty nights. And it's one of the few vegetables that will actually overwinter here, so I can continually harvest some out of the garden through the winter months when there's not a whole lot else going on out there. At least until the deer get to it anyway. Hey, they know what's good for them.
Kale is a ridiculously nutrient-dense superfood. It's one of the best sources of vitamin K, which is important for bone health, blood clotting, and the regulation of the body's inflammatory process. It's also loaded with dozens of different types of antioxidants and anti-inflammatory nutrients that have protective effects against various cancers and other diseases. Eat more kale. You'll live longer.
And this kale salad is so good. Kale, squash, cranberries, walnuts, and feta combine to provide so many different flavors and textures that really complement one another. The dressing is a delicious, super-quick balsamic vinaigrette flavored with some dijon mustard, a bit of fresh garlic, and a touch of honey. It's really, really good. You have to try it.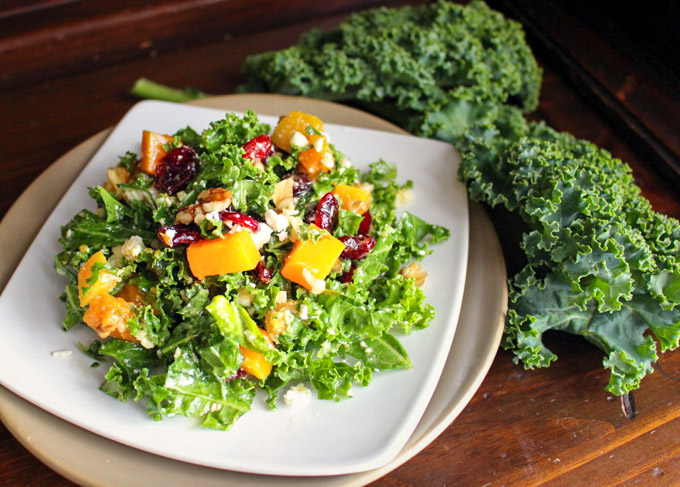 Another great thing about kale salads? Because kale is not as tender or delicate as other greens, it holds up better over time, which means you can make it in advance of when you plan to serve it and not have to worry about it getting wilted or soggy. I like to make up a big batch at once, so I can pack some for lunches over the next several days. Then I really have no excuse not to eat my kale.

Kale & Cranberry Salad with Winter Squash
This healthy and delicious kale salad combines fresh chopped kale with winter squash, cranberries, walnuts, and an easy honey dijon balsamic dressing.
Author:
Magda | ideliciate.com
Ingredients
DRESSING:
⅓ cup extra virgin olive oil
2 tablespoons white balsamic vinegar
1 teaspoon dijon mustard
1 teaspoon honey, optional*
1 clove garlic, minced
¼ teaspoon salt
⅛ teaspoon pepper
SALAD:
1 large bunch kale
¼ - ½ cup dried cranberries
½ cup chopped walnuts
2 oz crumbled feta or goat cheese, optional**
1 cup cooked, cubed winter squash***
Instructions
To make the dressing:
Combine all ingredients in small bowl and whisk with fork until well combined.
To make the salad:
Remove the stems from the kale and chop into small, bite-sized pieces.
Place chopped kale in a large bowl and pour the dressing over the top, tossing well to evenly distribute the dressing. Add remaining ingredients and toss gently to combine.
Notes
*Agave syrup may be used in place of the honey, or it may be omitted altogether.
**To make this recipe vegan, omit the cheese.
***To quickly cook winter squash, peel and chop it into small pieces, then steam for 5-8 minutes or until tender.
NOTE: The fastest way to cook your winter squash is as described in the recipe, by peeling and chopping up the raw squash, then briefly steaming it until tender. Alternatively, you can cut your squash into halves and roast them in the oven at until soft (45-60 minutes at 400 degrees), then cut it into cubes after it has cooled. The second method takes longer but is a good way to process a larger amount of squash, which you can then freeze for later use.