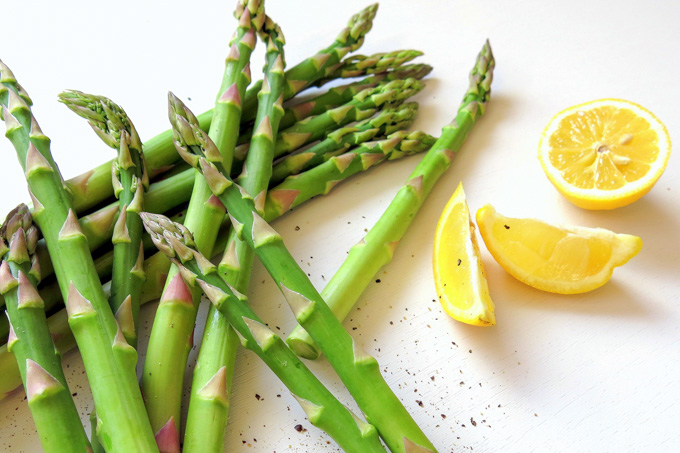 Asparagus is just one of the many, many reasons I love spring.
And this is, hands down, my favorite way to make asparagus – drizzled with fresh lemon juice, sprinkled with coarse ground salt and pepper, and oven roasted until tender. Sometimes I let it go until it's browned and crispy if I want to get a little crazy. It's so fast and easy to make that I'll make it at least a couple of times a week during asparagus season.
If you're at all on the fence about whether or not you like asparagus, you should try this recipe. It may just make you a believer. (Shhh… Don't tell anyone, but I used to think I didn't like asparagus. Silly me.)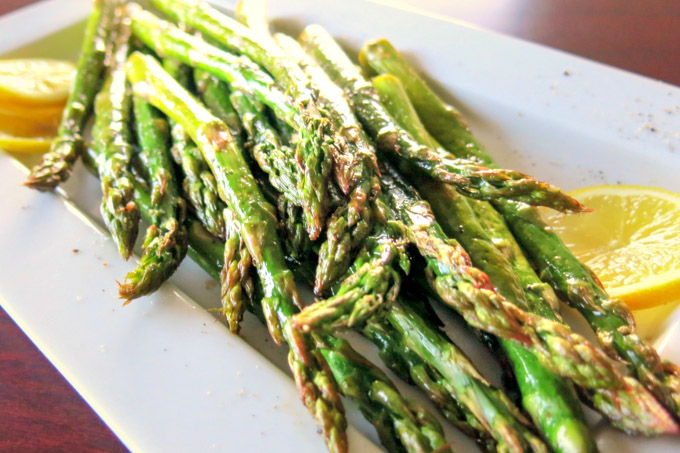 Asparagus contains significant amounts of inulin, a "prebiotic" that supports digestive health by nourishing our beneficial gut bacteria, which are associated with better nutrient absorption and lower risk of allergies and colon cancer.
Lemon-Pepper Roasted Asparagus
Ridiculously delicious asparagus. Quick and easy to make, this asparagus is roasted with lemon juice, sea salt, and black pepper.
Author:
Magda | ideliciate.com
Ingredients
1½ to 2 pounds asparagus
1-2 tablespoons olive oil, melted Earth Balance, or butter
1½ tablespoons lemon juice
½ teaspoon coarse ground sea salt
½ teaspoon coarse ground black pepper
Instructions
Preheat oven to 450 degrees Fahrenheit.
Trim ends off of asparagus. Place onto a large roasting pan or baking sheet and drizzle lemon juice and oil or butter over the top. Toss until evenly coated, then sprinkle salt and pepper over the top. Toss again until seasonings are evenly distributed.
Roast for 10-20 minutes, at least until the stem is tender or until browned. Serve immediately.