Okay, so sometimes I forget to plan ahead for my blog posts, so I'm not entirely sure what I'm going to make, so I don't buy groceries, so I just have to wing it with what's on hand. This was one of those moments. Substitute "blog posts" for "meals" or "sustenance" or even "life" and you basically get the last few months of my life.
But hey, you know what's always on hand? Potatoes. And onions. And garlic. I throw in some herbs and greens from the garden, and I've got myself some sustenance! And oh how delicious simple sustenance can be…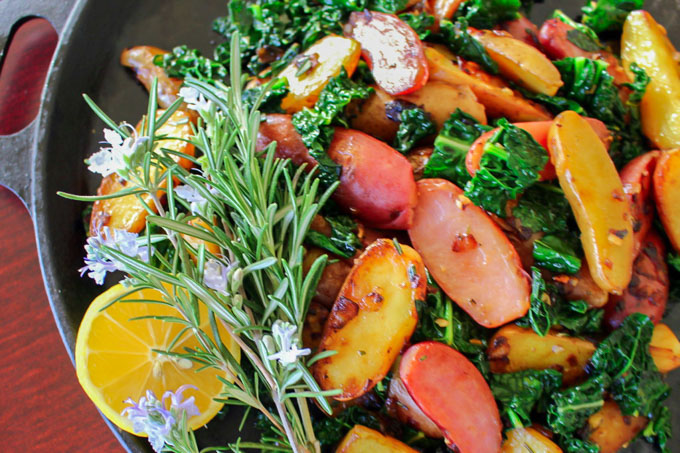 Anyone who knows me knows I love potatoes. And fingerling potatoes? My fave. These are some quick and easy pan-fried fingerlings with tuscan kale, onions, garlic, lemon juice, and fresh rosemary. You just can't go wrong with that.
Rosemary + Garlic + Potatoes = Bomb.
And they couldn't be easier to make! I don't even pre-boil my potatoes because 1) it's' not necessary, 2) that's just more dishes to wash, and 3) ain't nobody got time for that. Just one pan and twenty minutes and you've got potatoes in your belly. Hell, you can even eat them right off the pan like some sort of uncivilized person who doesn't own plates or something. (I clearly own plates and yet I do this. All. The. Time.) They are absolutely perfect for those lazy weekend mornings when you put off breakfast because you just don't want to get out of bed and then breakfast magically turns into brunch. Don't pretend you don't know what I'm talking about.
Lemon-Rosemary Fingerling Potatoes with Kale
Quick and easy pan-fried fingerling potoatoes with tuscan kale, onions, garlic, lemon juice, and fresh rosemary. Simple, hearty, and delicious, they're perfect for brunch!
Author:
Magda | ideliciate.com
Ingredients
1-2 tablespoons olive oil
1 medium onion, diced
1½ pounds fingerling potatoes, cut in half or quartered
2-3 cloves garlic, minced
1 tablespoon chopped fresh rosemary (or 1 teaspoon dried)
juice of ½ a small lemon
1 bunch kale, chopped
salt & pepper to taste
Instructions
Heat olive oil in large skillet over medium-high heat until hot. Add the onion, fingerling potatoes, and a generous sprinkling of salt. Cover with lid and cook for 6-12 minutes or until the potatoes are tender, making sure to toss occasionally throughout the cooking process.
Once potatoes are tender, add garlic, rosemary, and half the lemon juice and saute for another minute or two, adding more olive oil if necessary.
Add kale and remaining lemon juice, salt and pepper to taste, and toss well. Saute for about one more minute or just until kale is wilted and tender.