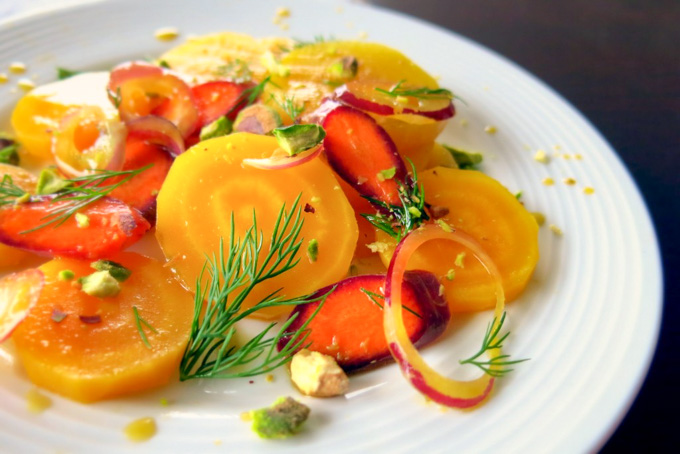 We've been having a lot of rain and fog and overcast gray clouds here in the Pacific Northwest lately. That's just how it is here in the winters. It's the kind of gray that hangs around all day and mutes all the colors and makes the world feel pretty darn small. It's been very… colorless.
It's not unusual for us to go weeks here in the winter without seeing a single ray of sunshine or the smallest sliver of blue sky. But hey, I will take the clouds and fog and rain over the bitter cold that so much of the rest of the country gets in the winter. I will take my vitamin D religiously and wait for springtime (it's almost here!) and try not to complain. And when I'm craving color, I'll take it in vegetable form.
Exhibit A: This salad. This salad is sunshine on a plate. Tasty, tasty sunshine.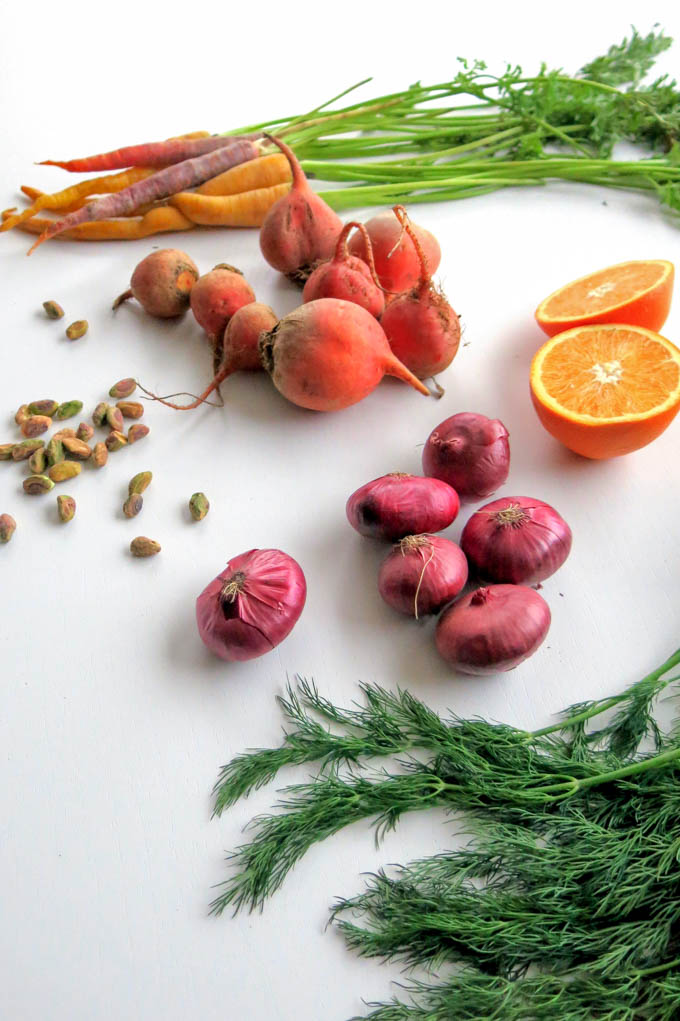 Bright, zesty citrus, golden beets that practically glow, yellow and orange and purple carrots, some maroon-colored cippolini onions, bright green pistachios, and that fresh, deep green dill. Yes please.
One of my most favorite things about vegetables is how vibrant and colorful they are. And the best part is that it's the vitamins and nutrients that nourish us that are what's responsible for all that color. Bonus points right there.
And after all, you eat with your eyes first. So your food should damn well be beautiful.
Yellow beets are a good source of lutein, a phytonutrient that is especially important for eye health. Beets are also a good source of fiber, folate, and potassium and have more antioxidants than most common vegetables (50 times more than orange carrots!) Scrub beets and cook them with their skins on to retain the most nutrients.
Marinated Golden Beet Salad with Carrots, Dill, & Pistachios
A delicious, colorful salad to brighten up the grayest winter days. Golden beets and carrots in a citrus-balsamic marinade topped with crushed pistachios and fresh dill.
Author:
Magda | ideliciate.com
Ingredients
13-16 ounces small golden beets (about 8 baby beets)
1 large or 2 small carrots
1-2 small red cippolini onions (or ¼ of a red onion)
1 cup fresh squeezed orange juice (about 2 oranges)
1½ teaspoons red balsamic vinegar
1½ teaspoons extra virgin olive oil (optional)
2 teaspoons chopped fresh dill (plus extra for garnish)
pinch of salt
¼ cup crushed roasted salted pistachios
Instructions
Place the beets in a steamer basket over a pot of boiling water and steam for approximately 30-40 minutes until beets are tender. Allow more time for larger beets. Remove from heat, allow them to cool slightly, then peel the beets and cut horizontally into ¼" thick slices.
While the beets are cooking, peel and thinly slice the carrots and red onion.
In a medium bowl or container, combine the orange juice, balsamic vinegar, olive oil, dill, and salt. Add the carrots, onions, and sliced beets. Allow the vegetables to marinate overnight for best flavor, or as long as time allows.
When ready to serve, remove the vegetables from the marinade onto a serving plate, then drizzle desired amount of citrus marinade over the top. Sprinkle with crushed pistachios and garnish with fresh dill.
Notes
This is a great salad to prepare ahead of time, as the flavor and texture improve the longer the vegetables have to marinate. It will keep for several days in the fridge in an airtight container.