This is probably my favorite fall and winter salad. Scratch that, this is definitely my favorite fall and winter salad. It highlights so many delicious, seasonal ingredients. The tart, acidic pomegranate balances the sweetness of the pear and is complemented by salty, sharp feta (or tofu feta!). The toasted walnuts add a bit of crunch, and the whole thing is served on a bed of fresh, flavorful arugula. And in lieu of a dressing, you simply squeeze the juice of a couple of fresh tangerines over it all. Oh my gosh, so many of my favorite things… And did I mention how easy this salad is to throw together?
You really need to make this salad. Like as soon as possible.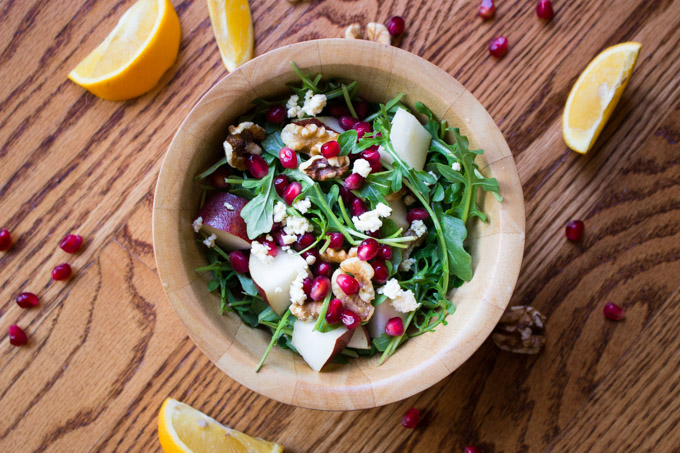 Oh, and bonus! This salad is absolutely loaded with nutrients and antioxidants. Like, you could eat this salad all day, every day if you wanted to. It's that good for you.
Compounds called punicalagins, which are found only in pomegranates, are responsible for lowering cholesterol and blood pressure and fighting atherosclerosis, all of which help to prevent heart attacks and strokes. Pomegranates also contain compounds that stimulate serotonin and estrogen receptors, which can improve symptoms of depression and increase bone mass.
It's the last call for pomegranates in my neck of the woods, so I'm enjoying this salad  while I still can!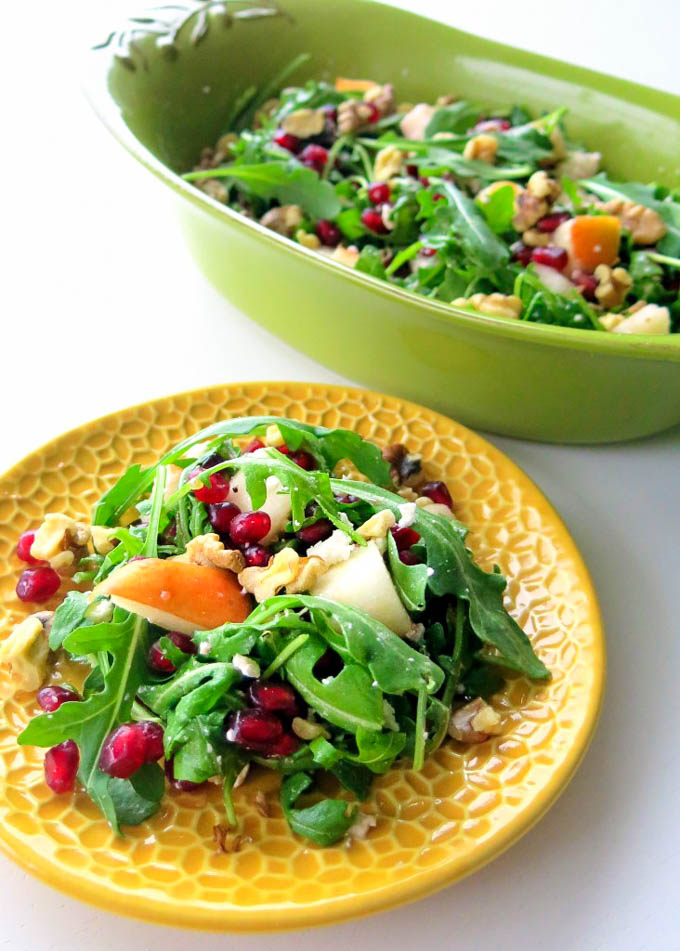 To make this salad dairy free and vegan, use tofu feta! (Psst… that's what I used in the recipe photos.)

Pomegranate, Pear, and Arugula Salad
A healthy, delicious salad highlighting seasonal, fall and winter ingredients.
Author:
Magda | ideliciate.com
Ingredients
4 cups of loosely packed arugula (about 2-3 ounces)
1 pear, chopped into bite-sized pieces (I used a Bartlett)
1 pomegranate (or about 1 cup of pomegranate seeds)
2 satsuma tangerines, juiced
⅔ cup coarsely chopped walnuts
2 ounces crumbled feta or tofu feta (optional)
Instructions
Toast the walnuts at 350 degrees for about 10-15 minutes until they become aromatic and golden in color.
To remove the seeds from the pomegranate, first cut it in half horizontally. Holding a pomegranate half from below with the cut side down over a bowl, beat the top and sides firmly with a wooden spoon until the seeds have all fallen out. Pick out any pieces of white fiber.
Mix all ingredients together in a large salad bowl and toss to combine.
Notes
-For another delicious (and less sweet) variation of this salad, simply replace the chopped pear for a citrus fruit of your choosing. It's great with whole segments of baby clementines or chopped navel oranges.
-You may use the juice of any tangerine or orange you like in place of the satsumas in this recipe.