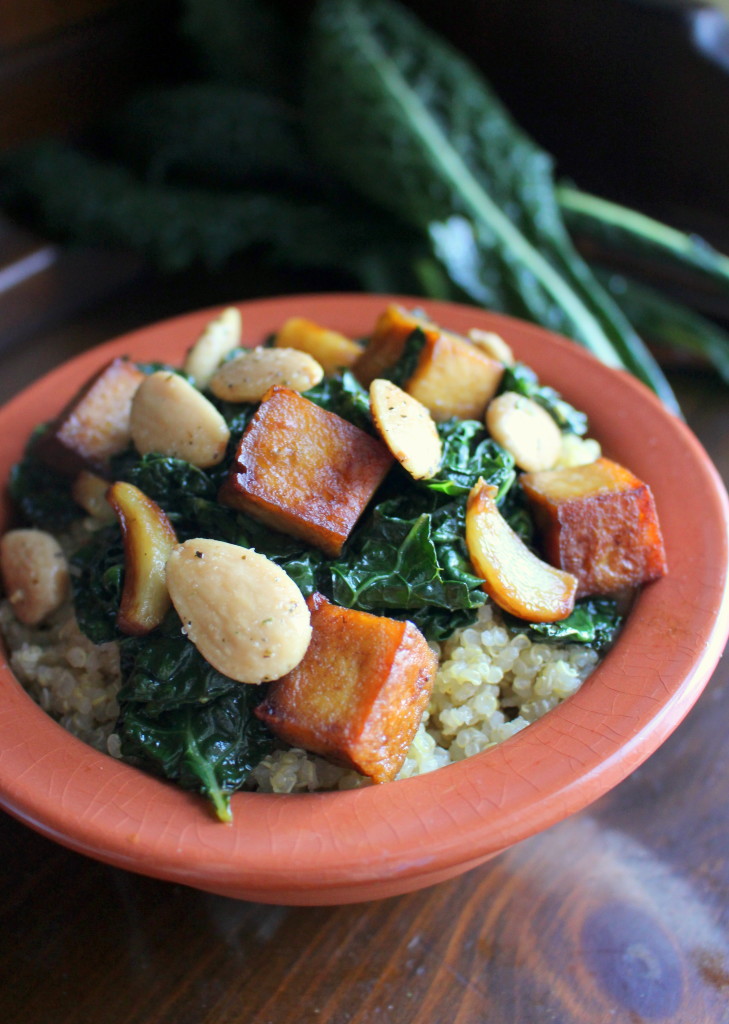 More kale! And I'm okay with that. Right now, kale is in season and especially delicious, and it doesn't have a whole lot of other vegetables competing with it for the spotlight. That's going to change pretty darn soon.
I keep forgetting it's still only March. While it is most definitely time to start planning and planting in the garden, I'm trying to remind myself to stay present and take the time to enjoy what is still in season now. It's so easy to get carried away with dreams of tomatoes (I may or may not have bought a jar of bruschetta this week), just as it's easy to get excited about something that's happening next week or next month or in the next season.
We're all used to saying, "I can't wait." But the thing is, we can wait, and we should. Because time flies by quickly enough as it is, and time is one thing you can't ever get back. So this year, for once, I'm trying to slow down and focus on the present moment, on enjoying what I have when I have it.
And right now, I guess I have a lot of kale.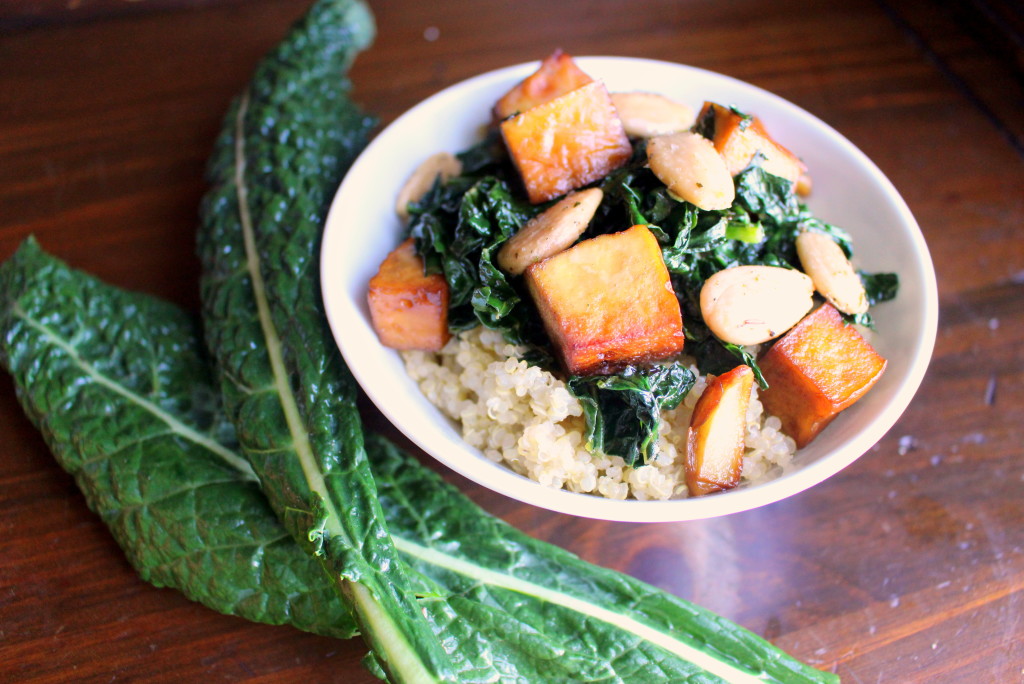 Let's get right into it. This is a super simple recipe for a quinoa and kale bowl. You throw in some whole cloves of garlic, some smoked tofu, tamari, smoked paprika, and an extra dash of liquid smoke and you have a delicious, savory, smoky quinoa and kale bowl. Top with some spanish almonds (oh my god, the roasted ones, with herbs…) and all of a sudden, it's amazeballs. (Amazeballs = my technical term for "really, really good," just FYI.)
Not rocket science, really. Just great ingredients and a quick, easy, healthy and delicious meal. Go getcha some!

Quinoa with Smoky Kale & Tofu
A light, quick, and easy quinoa bowl with lacinato kale, smoked tofu, garlic, and spanish almonds.
Author:
Magda | ideliciate.com
Ingredients
3 cups cooked quinoa (or 1 cup dry quinoa and 2 cups water)*
1-2 bunches lacinato kale
1 bulb garlic, peeled (about 8-12 cloves)
7-8 ounces smoked tofu
2 tablespoons olive oil
1 teaspoon tamari
½ teaspoon liquid smoke, divided
1 teaspoon ume plum vinegar**
¼ teaspoon smoked paprika
2-4 ounces spanish almonds
Instructions
Heat olive oil in large sauté pan over medium high heat. Chop up your brick of smoked tofu into ½" pieces and add to pan along with the whole garlic cloves, tamari and ¼ teaspoon of liquid smoke. Sauté for 3-6 minutes, tossing occassionally, or until tofu starts to get crispy.
Remove the stems from the kale and chop into bite-sized pieces.
Reduce heat to medium, then add the chopped kale, vinegar, smoked paprika, and remaining ¼ teaspoon of liquid smoke to the sauté pan. Cook for an additional 2-4 minutes, or until kale is tender.
Spoon the kale and tofu over cooked quinoa, garnish with spanish almonds, and serve!
Notes
*To cook quinoa, first rinse it in a fine-meshed strainer under cool running water for 1-2 minutes, then drain. Place 2 cups of water for every 1 cup of dry quinoa in a saucepan and bring to a boil. Then reduce heat to low, cover, and simmer for 15-20 minutes or until done. Or just cook it in your rice cooker! Gently fluff with a fork before serving.
**You can substitute rice vinegar for the ume plum vinegar, but you may need to adjust for salt as the plum vinegar is usually fairly salty.