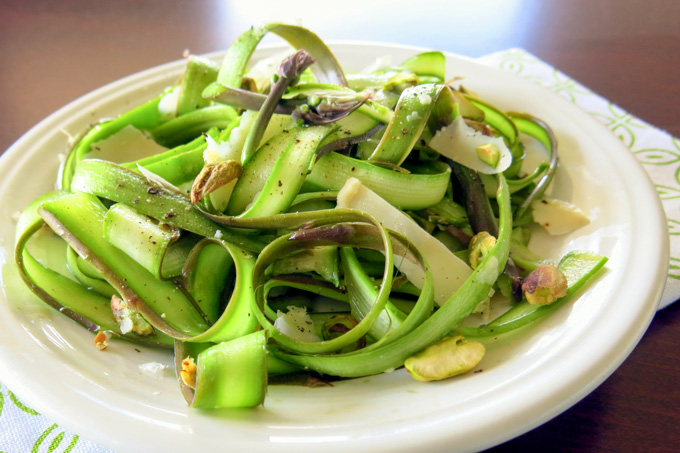 I know, I know… it's been a while. I've taken over a month off from blogging, for both good and not-so-good reasons.
The good is that I went to Hawaii! It was a much needed 10 days away from work, full of relaxing afternoons on beaches, snorkeling and swimming in that gloriously warm ocean, epic hikes and adventures, and quality time spent with my sister. It was so wonderful, you guys. I can't even tell you.
The not-so-good reasons for my recent break from blogging are a little harder to explain, although I've started to notice that they're a bit of a pattern for me during this particular time of year. It seems like that transition period right when the winter is turning to spring is just a rough time for me – it's when I start to really struggle with things, pretty much like clockwork every year. It happens. It's not fun. But I always work through it, eventually.
Transitions are rarely easy. But change, even when it's difficult, is a really beautiful thing.
I got back from Hawaii to find spring in full force here in the Pacific Northwest. All of the trees are suddenly flush with leaves, there are flowers everywhere you look, and it's been over 80 degrees the last few days. (I know, what?) It's high time to start planning and planting my vegetable garden.
I skipped the garden last year, and I really missed it. Sometimes it's hard to find the time for it in between everything else I have going on. But gardening can teach you a lot if you let it. Persistence. Patience. Adaptability. And that all you really need to do each day is something… There really is a never ending amount of work to do in a garden at this time of year, and it's easy to be overwhelmed by it all if you allow yourself to be. Just like in life.
But all you can do when you wake up in the morning is to decide what the most important thing is to do for that day, and then do it. You can't change yesterday and you can't predict tomorrow, so all you're really left with is today – the present moment – and it's up to you to make the most of that.
Sometimes you just have to realize that life really isn't all that complicated.
Food doesn't have to be complicated either. (Like my transition there?) No, but really, it doesn't. So, sticking with today's theme of keeping it all simple, I give you this salad.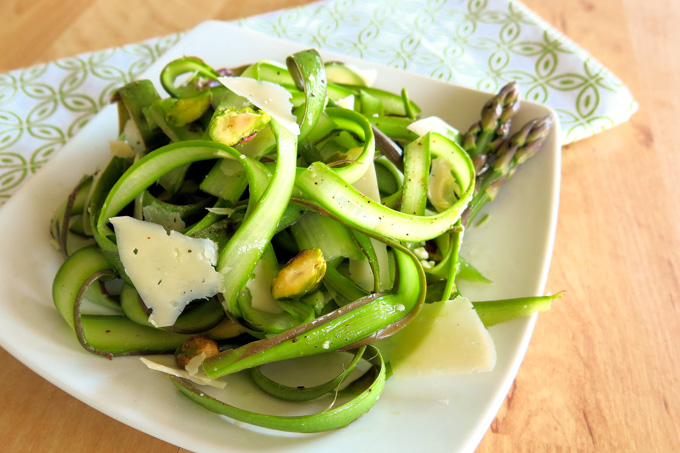 And oh my goodness… this salad. This salad was the best thing I'd eaten in a long time.
Because spring brings asparagus season! I planted my asparagus years and years ago, and I hardly have to do a thing to it – it faithfully starts popping up in early spring all on its own, the best kind of surprise.
I wasn't sure how I felt about raw asparagus, but let me tell you, I'm a convert. I used fresh-picked asparagus from the garden and it was so crisp and tender and juicy (seriously… juicy) – I was blown away. The recipe for the salad isn't much of a recipe even, at least in the sense that there aren't any measurements for the ingredients. It's all seasoned to taste, which is generally the best way to do it, in my opinion. Just trust your taste buds.
Make sure you use the freshest asparagus you can find (thicker spears are actually better), a really good quality sea salt (I used a coarse ground Celtic sea salt), lemon juice squeezed out of an actual lemon, and truly fresh ground black pepper. You don't really need to take shortcuts for such a quick, simple recipe anyway.
I enjoyed this salad as a refreshing, light lunch on a hot day. I literally devoured it and was pretty bummed when my plate was empty. I think I'm going to need to plant some more asparagus.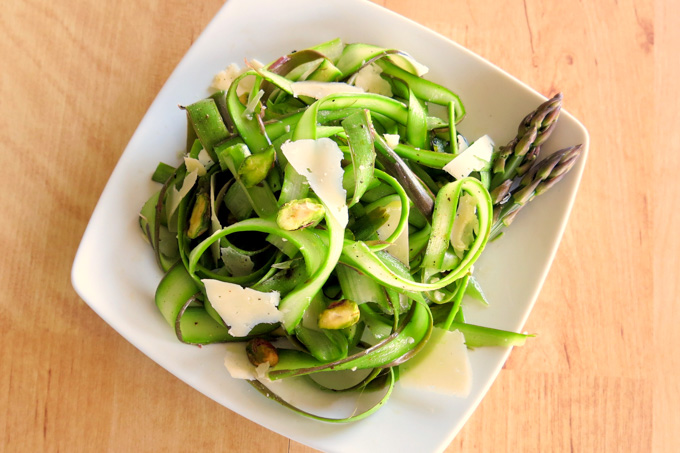 Asparagus is loaded with vitamin K and folate, both of which are important to maintain strong bones. These vitamins are also important in blood clotting and cell production, including skin cells, intestinal cells, and red blood cells. Folate is a critical nutrient for brain and nervous system health and can prevent against dementia, depression, and other nervous system problems.
Shaved Asparagus Salad with Parmesan & Pistachios
A delicious, refreshing way to enjoy fresh asparagus, this salad is super quick and easy to make. Fresh, raw asparagus ribbons are tossed with lemon juice, shaved parmesan, pistachios, sea salt and black pepper.
Author:
Magda | ideliciate.com
Ingredients
1 bunch asparagus
lemon
parmesan (optional)
pistachios (I used roasted salted pistachios but you could also use raw)
sea salt to taste
fresh ground black pepper to taste
Instructions
Snap or cut off the tough bottoms of the asparagus and discard. Cut off the tips and set aside. Using a vegetable peeler, slice the asparagus into long, thin ribbons.
Shave the parmesan into thin, bite-sized slices with the vegetable peeler.
Toss the shaved asparagus and parmesan with lemon juice, salt, and pepper to taste. Sprinkle with crushed or chopped pistachios. Garnish with the reserved asparagus tips.