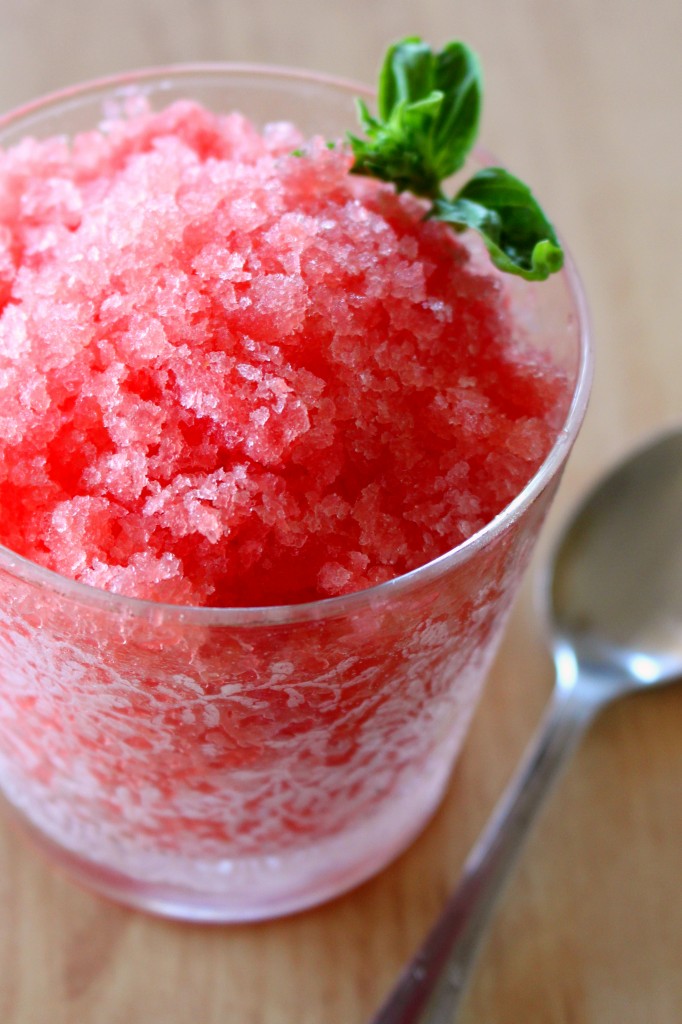 What's a granita, you ask? It's a frozen, usually fruity dessert that originates in Italy and is generally coarser or icier than a sorbet or gelato. Texture-wise, it's a lot like a snow cone or shaved ice. But because it's made with 100% real fruit and no added sugar, syrups, or artificial flavorings (at least my version, anyway), it's a whole lot healthier.
Watermelon is a very good source of vitamin C and is high in lycopene, the compound from which it gets its gorgeous, vibrant red color. Lycopene is a powerful antioxidant that has strong anti-inflammatory effects, may help protect against certain cancers, and can even decrease sun damage from UV radiation.
As long as you use a ripe watermelon, I really don't think this granita needs any additional sugar, so I don't use any. If you'd like it to be sweeter, however, feel free to add your sweetener of choice to taste.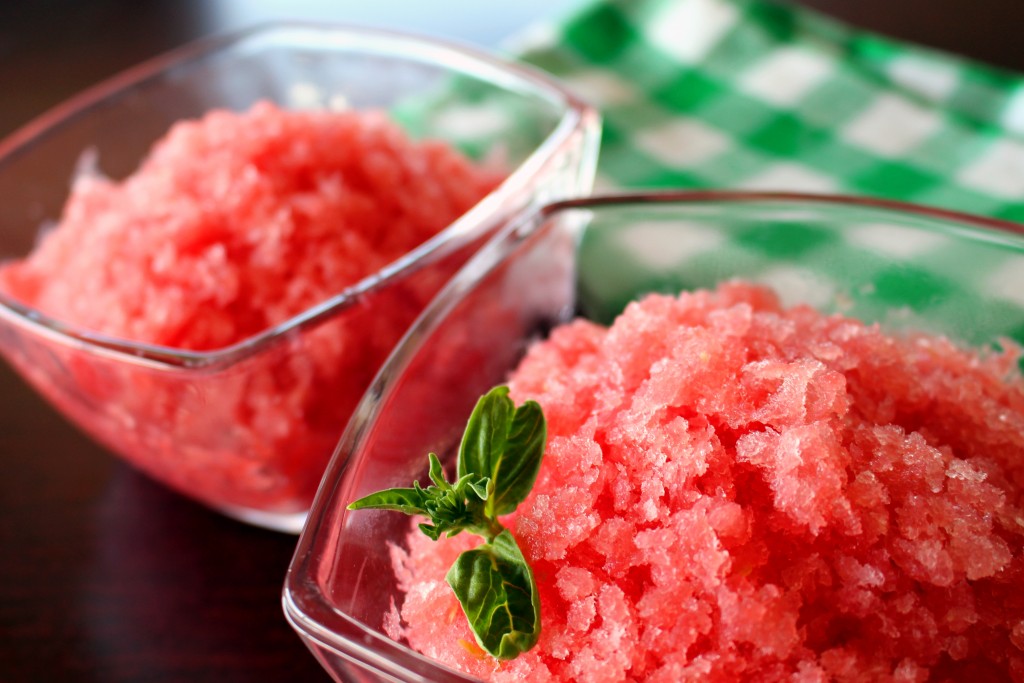 Granitas are also crazy easy to make. You don't need to cook a thing and you don't need an ice cream maker. Just blend everything together, throw it in the freezer, and fluff with a fork a few times. Easy peasy.
Don't be afraid to play around with the ingredients either… You can add fruit juice or berries, or substitute mint for the basil. If you can get your hands on some lemon or lime basil, then you really, really must try that because it's almost candy-like in flavor.
Try making a big batch of this granita for a kid's birthday party or summer barbecue. You can even serve it in paper cones just like snow cones! It's an easy recipe to make ahead as well and if you have leftover watermelon, make some watermelon-lime juice while you're at it. While you'll get the best results by following the directions below and scraping the granita with a fork every couple of hours as it freezes, and by consuming the granita within a day or so after it's made, don't sweat it if you forget about it. I've also left it in the freezer overnight or even for a few days, and simply scraped it until it was fluffy right before serving. And it was still delicious.

Watermelon Basil Granita
This delicious, easy-to-make watermelon granita is flavored with lime and basil and has no added sugar. A light, healthy, refreshing dessert for hot summer days.
Author:
Magda | ideliciate.com
Ingredients
4 cups cubed watermelon
1 lime, juiced
3-4 large basil leaves
Instructions
Place all ingredients in a blender and puree until smooth.
Pour into a large sheet pan or baking dish and place in the freezer. Once the mixture starts to freeze (after about 1-2 hours), scrape the top with a fork to create an almost fluffy, flaky texture. Return to freezer, then repeat the process every 1-2 hours until fully frozen. Scrape or "fluff" before serving.