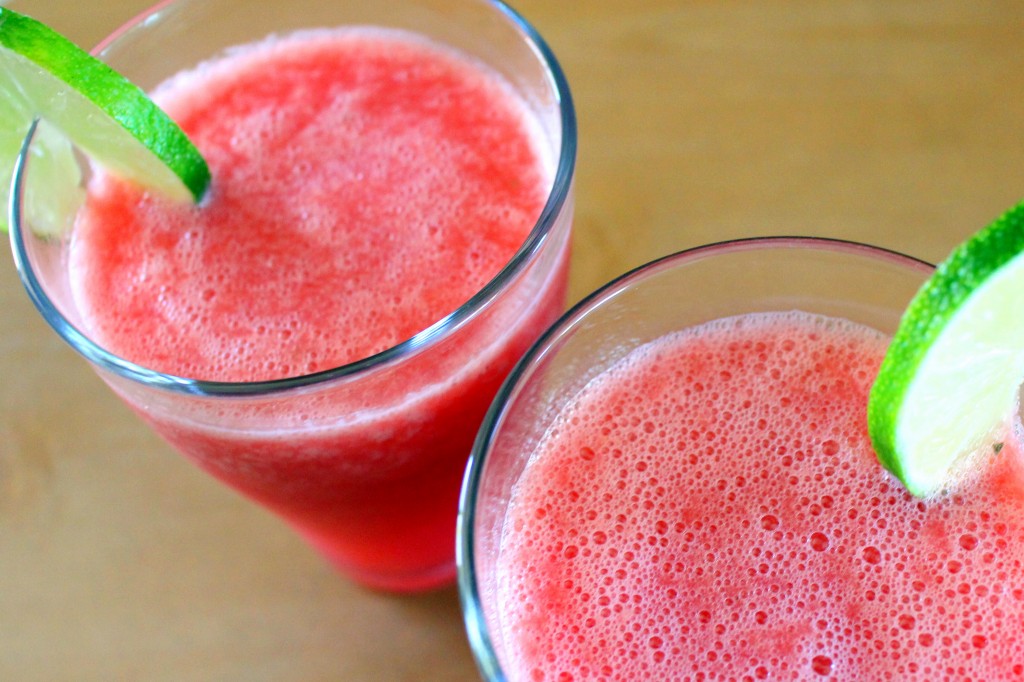 There's nothing like a cold watermelon on a hot day. Am I right or am I right? While I enjoy eating a chilled slice of watermelon just as much as the next person, I think making a juice out of it is even better. A little bit of lime pairs perfectly with watermelon as it cuts through the sweetness just enough to bring out its full flavor.
If you've never tried this before, then you really need to, like ASAP. Because it's really incredibly delicious. And you have no excuse not to try it, as it takes less than five minutes to make, from start to finish.

Did you know that watermelon juice can actually increase athletic performance and reduce exercise-induced muscle soreness? A 2013 study found that this was the case when athletes consumed watermelon juice before a tough workout. This is because watermelon is rich in the amino acid L-citrulline, which your body uses to improve circulation and relax blood vessels.
Want a fun way to serve this juice for a party or barbecue? Cut a small amount off of one end of your watermelon so that it stands up on its side. Then cut a larger circle out of the top of the melon (like you would when carving a pumpkin) and scoop the flesh out from the inside, being careful to leave at least an inch of flesh on the bottom to prevent any leaks. Then carefully carve out a small hole in which to insert a spigot, taking care not to make the hole any larger than necessary so it won't leak. Prepare your juice, then pour it back into your hollowed out watermelon, adding ice if desired. Proceed to impress your guests, then drink up!
Watermelon-Lime Juice
This fresh and flavorful juice couldn't be easier to make and is delicious and refreshing served chilled on a hot summer day.
Author:
Magda | ideliciate.com
Ingredients
4 cups fresh watermelon
1 lime
Instructions
Place the watermelon in a blender along with the juice of one lime.
Blend until smooth.
Enjoy!