Hey, so I know it's been a while, but remember my recipe for that Black Rice, Beet, and Berry Salad with a Citrus-Ginger-Miso Dressing? That was an adaptation from Anya Kassoff's cookbook The Vibrant Table: Recipes from My Always Vegetarian, Mostly Vegan, and Sometimes Raw Kitchen
. Way back when, I promised y'all a review of that cookbook, and, well… better late than never, right?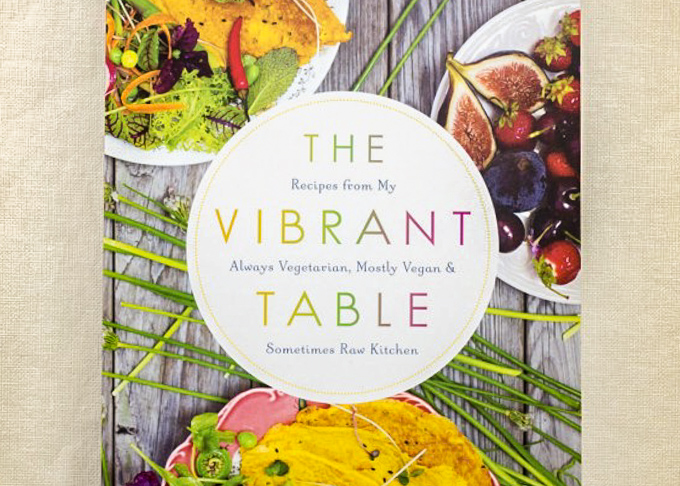 I'm going to be honest with you, I don't typically follow recipes when I cook. And when I do cook from recipes, I don't usually make my way through just one book at a time. I have a hard time sticking with the script and not doing a little bit of improvising of my own.
So I generally just flip through cookbooks to gather inspiration, whether it's for recipe ideas, a unique way of plating something, or a new way to use an ingredient. I especially drool over cookbooks with eye-catching, colorful food photography. And that is definitely an area in which this cookbook does not disappoint.
The photographs in this book (oh my god, the photographs…) are simply stunning. Stun. Ning. It's a cookbook you want to leave out on the coffee table. In a nod to the title of this book, the food that's pictured in these pages can only be described as vibrant. The food photography is really exceptional (I have so much to learn!) and the mouthwatering photos instantly sell you on the food. I dog-eared so many pages of recipes I wanted to try because the photos legit had me drooling.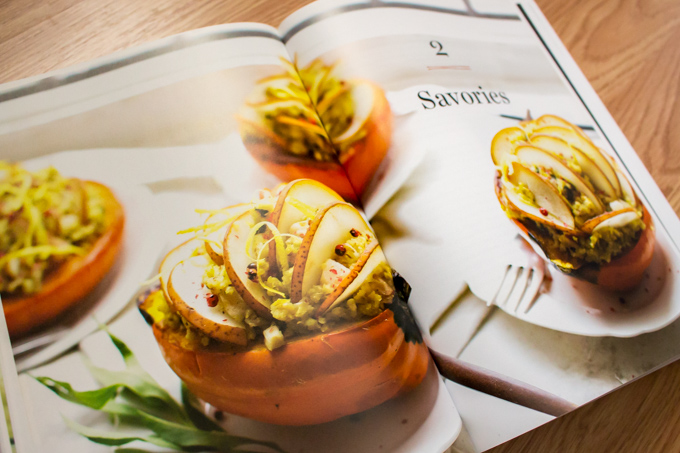 The recipes themselves are deliberately healthful and nutritious and often pretty unique, featuring flavor combinations I'd never considered before and ingredients I don't often use. Like the book's subtitle suggests, all of the recipes are vegetarian and most are also vegan and gluten-free. That's great for the truly health-conscious cook!
However, most of the recipes featured in this cookbook are on the complex side. They often involve a long list of ingredients, some of which may be hard to find in your average grocery store. The instructions, while thoughtfully detailed and thorough, frequently take up more than one page, which can be intimidating for less experienced cooks. The majority of the recipes are neither simple nor quick or easy to make. So you'll have to be a little adventurous with this one.
I adapted one of the recipes from The Vibrant Table here on the blog. The Miso and Raspberry Forbidden Rice Salad was a pretty tasty and unique combination of ingredients that ended up being crazy, insanely nutrient dense. Like, holy hell, those nutrition facts though! That salad was beautiful, nutritious, and tasty (although it proved to be a little too daring for my pint-sized taste testers to want more than a bite of).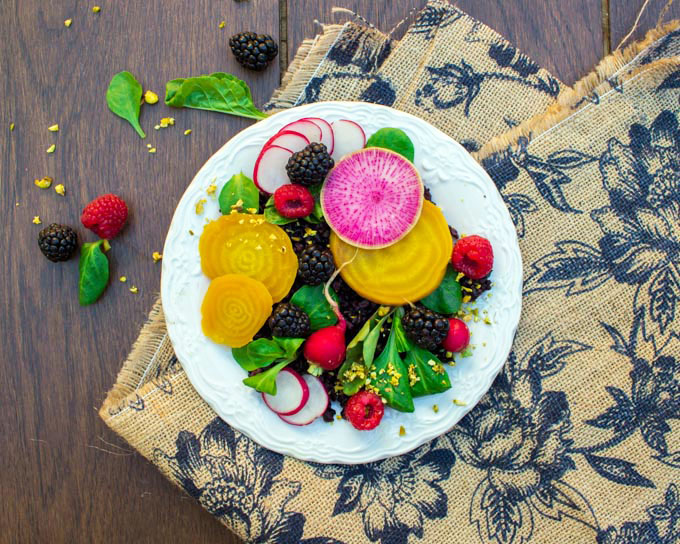 …