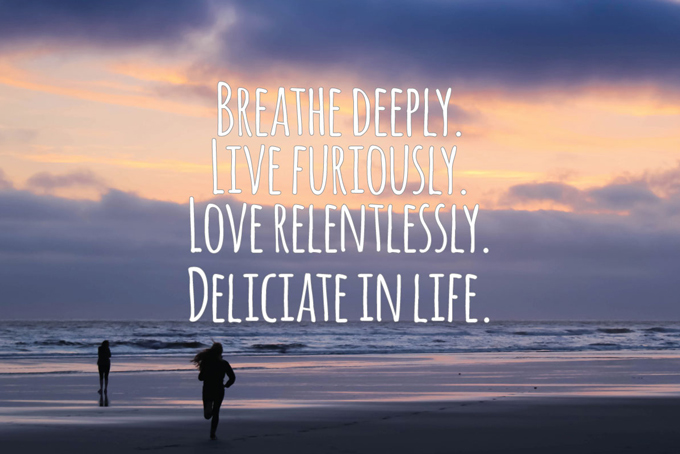 Deliciate is a word that's all but obsolete. I don't remember how or when I first came across it, but I do remember that it (clearly) made an impression.
The 1913 edition of Webster's dictionary defined the word deliciate to mean "to delight one's self; to indulge in feasting; to revel." The Oxford English Dictionary adds a few more definitions: "to rejoice; to enjoy oneself; to take one's pleasure; to luxuriate; to fill with delight."
I like to think that it means all these things and more. I think that to deliciate in something means to truly savor it – to allow yourself to indulge and be fully engaged in taking pleasure in that thing, whatever it is.
I think that, historically, the word was used in regards to eating and food – it's easy to picture someone deliciating in a rich, indulgent dessert. Maybe that's why it appealed to me. I love food and cooking, and I originally started this website as a food blog, so I thought the word was perfect to describe my philosophy on food and eating.
But as much as I love cooking, creating recipes, and sharing food with others, it isn't my overarching passion in life. I knew that I wanted to write and have a blog, but I didn't want to just be a food blogger and spend all of my time living and breathing food. I knew that if I was going to start a blog that I was truly excited about, I needed to approach it from a larger perspective.
I'm someone who believes in living a full, balanced, and well-rounded life. I have a lot of interests, as I think most people do. I certainly don't want to focus on one at the expense of cutting out all the others.
I spent the past year thinking about what it means to deliciate in more than just food – what it means to deliciate in life. I allowed myself a very long time to simply think about what I want my life to look like. And I don't mean in the sense of where I see myself in the future, but more like what I want my day-to-day life to look like – regardless of my job or income or the amount of free time that I have.
I think in today's society we are overly future-oriented. We think about goals in the sense of life goals. We think about what we want to achieve but not necessarily how we're going to get there. We focus on the outcome far more than the process, and I think that we short-change ourselves by doing so. We are conditioned to not feel happy or fulfilled with what we have and instead we're stuck in the trap of wanting more. And more. And more.
Happiness and fulfillment and gratitude are all habits. Don't keep putting them off. If you tie them to external factors like your job, your paycheck, the vacation on the horizon, or any of the material things you have or want or convince yourself that you need, you're not allowing yourself to cultivate those habits. You end up instead cultivating the habit of wanting more. And when you do finally achieve whatever it is that you think is going to finally make you happy or fulfilled, you're not going to know how to fully appreciate it – not if you haven't yet gotten into the habit of appreciating what it is that you already have.
Every single day is a new opportunity to be the person that you want to be. Dream big. Pursue those long-term goals. But don't be blinded to the opportunities that arise along the way. Don't be so focused on the future that you forget to really enjoy what's in front of you right now.
Realize the value of approaching your life day by day and moment by moment. Set micro- and nano-goals that will help you achieve those long-term goals. Instead of taking that one big vacation every other year, go on a microadventure every other week. Explore your state, your city, and your backyard.
Be micro-ambitious. Focus on the little things in life. Immerse yourself in the here and now. Be present.
Don't discount the little everyday things that make your life what it is – the time you spend with your family, the laughs you share with your friends, the five minutes of complete and utter joy you give your dog when you come home at the end of the day. Our lives are made rich by these little things. Savor them.
Put a smile on, just because. Focus on the positive and forget the negative. Be genuinely grateful for the roof over your head, the food on your table, and the job you go to nearly every day.
You may not currently be living your dream life or working your dream job, but love what you do anyway. And spend your free time doing what you love.
Rejoice in your life. Revel in it. Savor the small things. Fully engage in what's immediately in front of you. Immerse yourself in the present moment.
That's what I believe it means to deliciate in your life. So that's the reason behind the name of this blog and the meaning behind that obscure little word.
This blog is, above anything else, an exploration of that very idea – of what it means to live a life worth living. The manifesto is simply a verbalization of the values and ideals I believe are most important. And Project Delici8 is the way I intend to immerse myself in these ideas, challenge myself to bring my manifesto to life, and keep myself accountable.
I hope it makes you think a little bit about what it means to you to deliciate in your life. I hope it inspires you to change something in your life for the better.
Breathe deeply. Live furiously. Love relentlessly. Deliciate in your life.