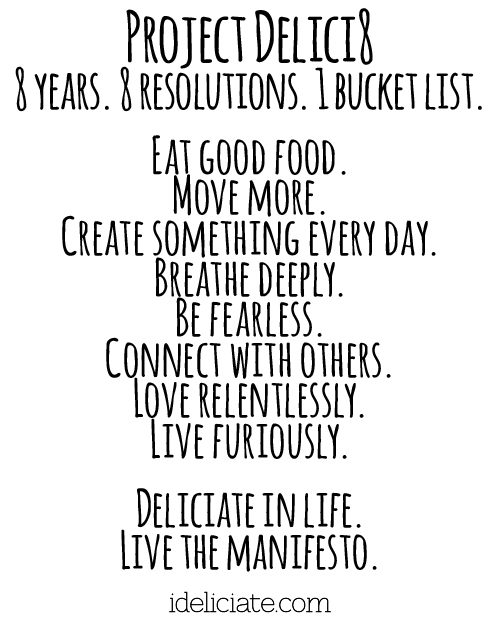 The Project
Project Delici8 is an eight-year quest to truly live my manifesto. It's a commitment to immerse myself in each of its eight core values for an entire year. Broken down year by year, it's going to look like this:
Year 1 – The year of FOOD: Eat good food. Learn to cook and cook for others.
Year 2 – The year of FITNESS: Move more. Learn to love your body and what it does for you every day. Take care of it.
Year 3 – The year of CREATIVITY: Create something every day. Never stop learning.
Year 4 – The year of SIMPLICITY: Breathe deeply. Simplify your life. Let go of anything that does not bring you joy. Value experiences over stuff. Do more of what makes you happy. When in doubt, dance it out.
Year 5 – The year of FACING YOUR FEARS: Be fearless. Take risks. Make mistakes. Don't be afraid to fail.
Year 6 – The year of CONNECTION: Connect with others. Treat absolutely everyone with respect, no matter what your differences. Give as many hugs as possible. Appreciate your friends and be good to your family.
Year 7 – The year of GIVING BACK: Love relentlessly. Practice random acts of kindness. Cultivate gratitude. Be kind. Believe that you are capable and worthy of love.
Year 8 – The year of LIVING FURIOUSLY: Live furiously. Travel often. Say "yes" more than you say "no." Live with intent. Never stop chasing your dreams.
Every single year, all the damn time: WANDER. ADVENTURE. EXPLORE. DELICIATE IN LIFE.
For more about the idea behind Project Delici8 and what inspired it, check out this post!
The Bucket List
So, as if all that's not enough, I'm also attempting to check off all the things on my bucket list as I go! Check out the full list below, and keep checking back to see how far I've gotten:
Last upated 11/2/17 | Currently 5.3% complete!
Cook something every single day for a year.
Exercise every single day for a year.
Do yoga every single day for a year.
Finish a 5k.
Finish a 10k.
Finish a half marathon.
Run a mud/obstacle race.
Participate in a scavenger hunt race.
Bike a century.
Do a full split.
Master the handstand.
Do yoga in the middle of a lake.
Get certified to teach yoga.
Do 100 consecutive pushups.
Go paddleboarding.
Take a dance class.
Teach a group exercise class.
Take a photo every day for a year.
Create something every day for a year.
Open an Etsy store.
Sell my own artwork.
Learn how to screenprint.
Paint a mural.
Make a piece of clothing by hand.
Make a short film.

Climb to the summit of a glaciated mountain.

[COMPLETE! Summited South Sister in Central Oregon on 9/29/2016!]
Join the Mazamas.

Camp out in a fire lookout.

[DONE! Stayed in Fivemile Butte fire lookout for three lovely days in August 2016!]
Unplug and go a whole month without technology.
Cut down to (and live with) only 100 possessions or less for 100 days.
Learn Transcendental Meditation.
Thru-hike the Pacific Crest Trail in its entirety.
Dye my hair.
Cut my hair short.
Get a tattoo.
Ride a mechanical bull.
Cliff jump.
Go skinny dipping. [DID IT! Swam in the nude in the Tualatin River on 6/25/2017!]
Get naked on a nude beach.
Ride on a rollercoaster (a really big one).
Ride in a helicopter.
Go up in a hot air balloon.
Go rockclimbing. Like, outside. Like, on a wall that is actually a rock.
Go hang-gliding/paragliding.
Skydive.
Go whitewater rafting.
Get acupuncture. [DID IT! Braved the needles on 2/2/2017!]
Get hypnotized.
Take a self-defense class.
Donate blood.
Practice rejection therapy every day for a month.
Ask a stranger for an interview.
Travel abroad solo.
Face my fear of public speaking.
Go a month without spending any money.
Jump in 100 lakes*. [In Progress: Currently at 26/100! Follow along on Instagram!] *may include the occasional non-lake body of water. 😉
Start a club or interest group.
Be part of a flash mob.
Organize a potluck in the park for a bunch of strangers.
Start a non-profit.
Take a homeless person out to dinner.
Spend 1000 hours volunteering.
Help someone cross an item off their bucket list.
Get a street artist to draw a caricature of me.
Go to a comedy club.
See a Cirque du Soleil show.
Make a GIANT snowman.
Sleep on the beach all night.
See the Northern Lights.
Go geocaching.
Visit all of the Seven Wonders of Oregon in the same year.
Go on a cross-country road trip.
Climb Half Dome in Yosemite.
Visit an active volcano.
Backpack through New Zealand.
Camp out in an Airstream trailer.
Learn how to surf.
Learn how to windsurf or kitesurf.
Learn to shoot a bow and arrow.
Learn to play an instrument.
Learn to speak a third language fluently.
Read another 100 books (at least 1 each month). [In Progress: Currently way ahead of schedule at 43/100! Follow along on Goodreads!]
Write a book and get it published.
Make a full-time living from my website.
Get out of debt.
Dance in all 50 states.
Do yoga in all of the National Parks in the U.S. (58 in total).
Visit all the World Heritage Sites in the U.S. (23 in total).