Confession: I might be a list addict.
I make lists for everything. I make lists on scrap paper and in Microsoft Excel, I fill notebooks with them, and I have at least three separate apps on my phone that I use to make and keep track of my lists. And I collect lists, too – lists of books to read and places to visit, even books that aren't much more than long, expanded-upon lists. I love a good list.
So it's probably no surprise that I'm a fan of bucket lists.
A bucket list is simply a list of the things you'd like to do in life – the experiences you'd like to have, the places you'd like to see, and the challenges you'd like to accomplish. Nothing more, nothing less. It's just a to-do list for life.
A bucket list, despite its name, isn't something you should wait to make until you're already older and getting ready to kick the bucket. You already know that you have a limited amount of time left to live. We all do. We just don't know how much.
What do you want most? Don't wait to start doing it until you have a better job or more money or more time because there's no guarantee you'll have more of anything in the future. There's no guarantee that you'll have the same opportunities, the same people around you, and even the same good health that you're blessed with right at this moment. Circumstances can change at any moment – if you can do something now, why put it off until later?
Eight years from now, you won't remember much about that TV show you binge-watched one weekend. But I bet you will remember the time you dragged a couple friends up a wildflower-covered mountain at sunset. And that other time you woke up on top of a mountain ridge to the most glorious sunrise of your life (for reference, see photo above). I bet you'll remember exactly how it felt to cross a finish line you weren't sure you'd make it to. I bet you'll cherish the hundreds of memories you made with the dog you rescued on an impulse (refer again to attached photos). Because I know I sure as hell will.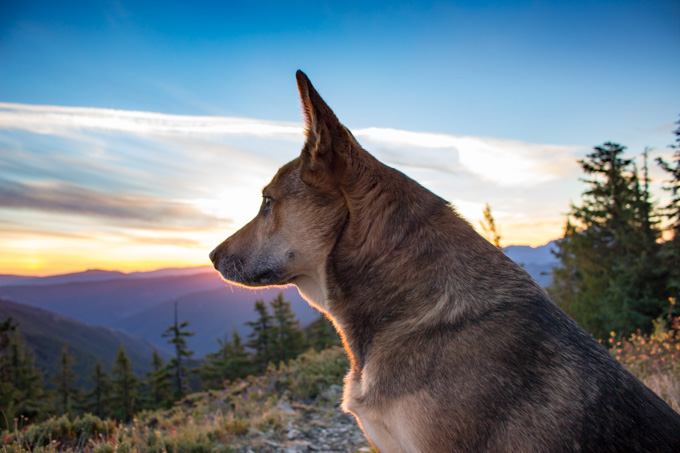 Since I wrote the first iteration of my bucket list, I've actually managed to check off quite a few things. I've run a marathon (or seven) and then an ultramarathon (or two). I backpacked through Europe, graduated from college, got certified in CPR, went to see an opera and a ballet, hiked into the Grand Canyon, started a garden, and grew over 100 varieties of heirloom tomatoes (in one summer!). Just this past year alone, I learned how to solve the Rubik's cube, started a blog, got a professional massage for the first time, soaked in a hot spring, and rescued a dog. (Adopting my dog Laika? Best. Decision. Ever.)
Maybe I would have done all of these things anyway, even if I hadn't already had them on my bucket list. But if I'm being honest with myself, I probably wouldn't have. Putting them on a list makes these things official. Making it official is the first step to making it a priority, which is critical to making it happen.
You only get one life to live. So make a list. And then make it happen.

So here's my bucket list. It's not the same as the one I made for myself when I first started college, although, surprisingly, there are quite a few things that carried over.
I've got some pretty simple things on here, but also some crazy ambitious ones. Some are just for fun, to remind myself to live a little. There are quite a few things that I'm actually kind of afraid of doing – but they're still experiences I'd really like to have because I know the value in facing and overcoming your fears. Many of them are personal challenges – because I've also learned the value of pushing yourself out of your comfort zone. And of course there are the big goals – the things I've always dreamed of doing and the places I've always wanted to go.
Like my manifesto, I'm publishing my bucket list publicly because I want to keep myself accountable. So if you don't see me actively trying to check things off my list, feel free to hassle and harass me until I do. No, seriously. We all sometimes need a kick in the butt. Kick away.
And don't forget to share – what's on your bucket list?
Cook something every single day for a year.
Exercise every single day for a year.
Do yoga every single day for a year.
Finish a 5k.
Finish a 10k.
Finish a half marathon.
Run a mud/obstacle race.
Participate in a scavenger hunt race.
Bike a century.
Do a full split.
Master the handstand.
Do yoga in the middle of a lake.
Get certified to teach yoga.
Do 100 consecutive pushups.
Go paddleboarding.
Take a dance class.
Teach a group exercise class.
Take a photo every day for a year.
Create something every day for a year.
Open an Etsy store.
Sell my own artwork.
Learn how to screenprint.
Paint a mural.
Make a piece of clothing by hand.
Make a short film.
Climb to the summit of a glaciated mountain.
Join the Mazamas.
Camp out in a fire lookout.
Unplug and go a whole month without technology.
Cut down to (and live with) only 100 possessions or less for 100 days.
Learn Transcendental Meditation.
Thru-hike the Pacific Crest Trail in its entirety.
Dye my hair.
Cut my hair short.
Get a tattoo.
Ride a mechanical bull.
Cliff jump.
Go skinny dipping.
Get naked on a nude beach.
Ride on a rollercoaster (a really big one).
Ride in a helicopter.
Go up in a hot air balloon.
Go rockclimbing. Like, outside. Like, on a wall that is actually a rock.
Go hang-gliding/paragliding.
Skydive.
Go whitewater rafting.
Get acupuncture.
Get hypnotized.
Take a self-defense class.
Donate blood.
Practice rejection therapy every day for a month.
Ask a stranger for an interview.
Travel abroad solo.
Face my fear of public speaking.
Go a month without spending any money.
Jump in 100 lakes.
Start a club or interest group.
Be part of a flash mob.
Organize a potluck in the park for a bunch of strangers.
Start a non-profit.
Take a homeless person out to dinner.
Spend 1000 hours volunteering.
Help someone cross an item off their bucket list.
Get a street artist to draw a caricature of me.
Go to a comedy club.
See a Cirque du Soleil show.
Make a GIANT snowman.
Sleep on the beach all night.
See the Northern Lights.
Go geocaching.
Visit all of the Seven Wonders of Oregon in the same year.
Go on a cross-country road trip.
Climb Half Dome in Yosemite.
Visit an active volcano.
Backpack through New Zealand.
Camp out in an Airstream trailer.
Learn how to surf.
Learn how to windsurf or kitesurf.
Learn to shoot a bow and arrow.
Learn to play an instrument.
Learn to speak a third language fluently.
Read another 100 books (at least 1 each month).
Write a book and get it published.
Make a full-time living from my website.
Get out of debt.
Dance in all 50 states.
Do yoga in all of the National Parks in the U.S. (58 in total).
Visit all the World Heritage Sites in the U.S. (23 in total).
This bucket list is part of Project Delici8, my 8-year quest to actively live my manifesto. Check out the main page for Project Delici8 to see what progress I'm making on checking these things off my bucket list! That's where you'll also find links to the blog posts that correspond to them.