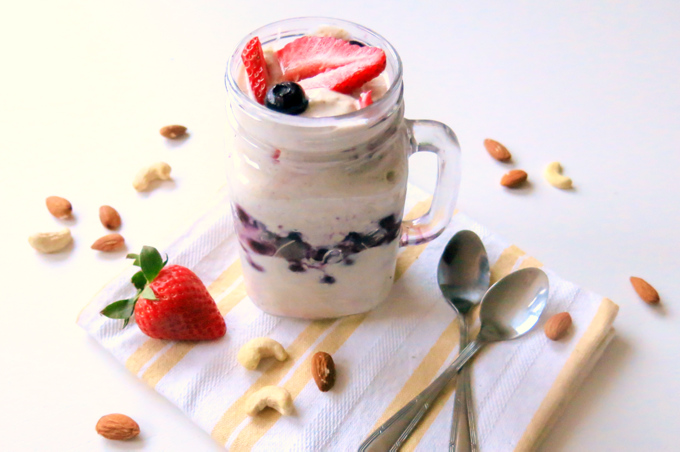 Yogurt is one of those things that was always a little intimidating to try and make myself. And vegan yogurt? It seemed like rocket science.
Considering how expensive vegan yogurt is and how limited the options are, I always wanted to figure out a way to make my own – something that was nutritious and plant-based and made from whole, clean ingredients. But it just seemed so complicated. I searched around on the internet and couldn't find a great recipe. And most of the recipes I found online made it seem like I'd need a special starter and a yogurt maker or incubator of some kind. So it kind of just seemed like too much trouble.
But then I tried it. And you know what? It really wasn't rocket science.
It's honestly not at all difficult. Like at all. All you need to do to make this particular yogurt is blend up some soaked almonds and cashews into a "milk", heat it, add some probiotics, and set it aside to culture. That's it.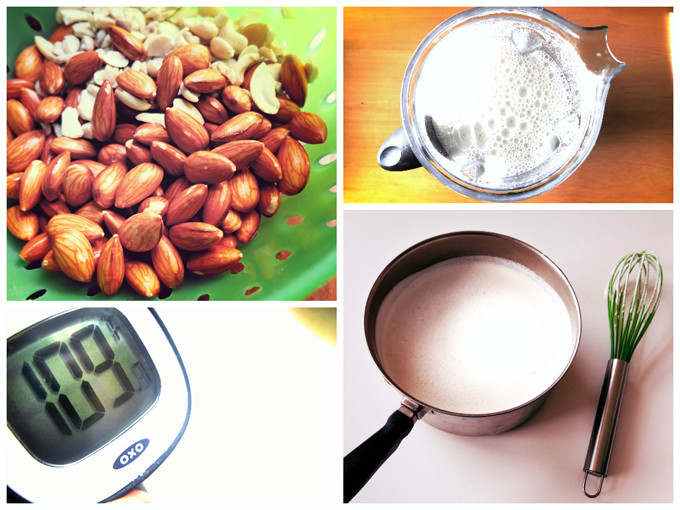 And no, you don't need a yogurt maker. The first trick to getting yogurt to culture is using a high-quality probiotic or yogurt starter. More often than not, I just use a few capsules of a probiotic supplement as my starter because it's just so easy and inexpensive. (I store the probiotics in my fridge to preserve their quality and prolong their shelf life.) But it's just as easy to use a couple of tablespoons of a store-bought yogurt (dairy-free or not) to get it started.
The second trick is simply making sure the yogurt stays warm (not hot!) while it's culturing. In the winter, I'll wrap it up in some dish towels and either leave it by the fireplace or woodstove if I've got one going. In the summer, I'll simply cover it with a towel and leave it in a really warm room. If I don't have a consistently warm place to put it, I'll just place it in an insulated cooler bag with two jars of hot water on either side. Easy.
And when you're done, you're left with a creamy, tangy, delicious yogurt that's full of protein, healthy fats, beneficial probiotics and a surprising amount of fiber. No thickeners, no sweeteners, no artificial flavors, and absolutely no cholesterol. Nothing but good stuff.
Use this yogurt plain in smoothies, or sweeten it up for parfaits or to make frozen yogurt in your favorite flavor. Oh, and you know what else you can make with this yogurt? Dairy-free cheese. Vegan cheese that tastes great and actually melts. Ohhh yes. Stay tuned, the recipe's coming up soon. You're gonna want to hang around for this one.

Almond-Cashew Yogurt (Dairy-Free)
A raw, plant-based, dairy-free, vegan, and paleo yogurt made from whole, raw almonds and cashews. Nutritious and delicious.
Author:
Magda | ideliciate.com
Ingredients
1 cup raw almonds, soaked overnight
⅔ cup raw cashews, soaked overnight
4 cups water
3 capsules of probiotic supplement*
Instructions
Drain nuts of their soaking water and rinse well. Place nuts and water in blender and blend on high speed for several minutes until smooth and creamy.
Pour the nut milk into a medium saucepan and heat over medium-low heat until it reaches 110 degrees Fahrenheit. Remove from heat and whisk in the contents of the probiotic capsules.
Pour into a large jar, wrap in a kitchen towel, and place in a warm place to culture for 4-8 hours or overnight.** Yogurt will thicken and will start to taste and smell slightly tangy. Refrigerate until ready to use.
Notes
*Any good-quality probiotic supplement should work just fine, but make sure it comes in capsules and not pearls or tablets. I use Probiotic 10-20 from Vitacost.com, although it isn't technically dairy-free. You can also substitute either a vegan yogurt starter that is available online or 2 tablespoons of store-bought yogurt for the capsules.
**The ideal temperature for yogurt to culture at is at least 80 degrees, but that doesn't mean that you need to go to great measures to keep your jar of yogurt warm. A warm place by a heater or woodstove should suffice. Other options include placing the yogurt in an insulated bag or cooler with another jar full of hot water or in the oven with the oven light on to provide a bit of extra heat. Or just leave it at room temperature, but know that you'll need to leave it to culture for longer before it's done.
-This yogurt has a tendency to separate a bit. Either stir it periodically to reconstitute it, or, for a thicker yogurt, drain the liquid that tends to separate out at the bottom of the jar. The yogurt will get even thicker and tangier after being refrigerated.