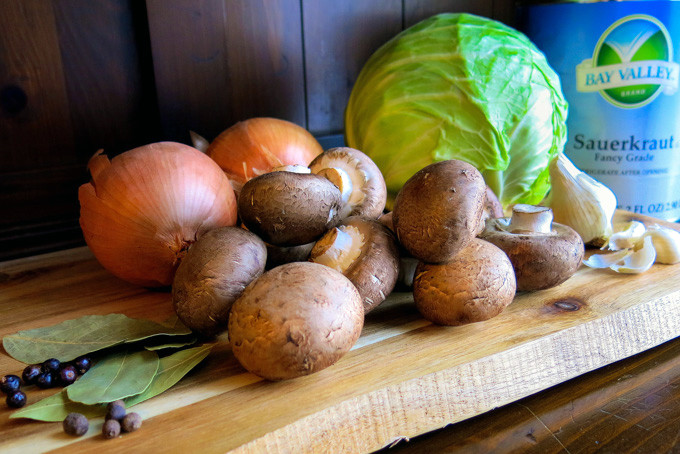 Bigos is another Polish food I grew up on. Known as "hunter's stew," it's a hearty, earthy sauerkraut and cabbage stew. Traditionally, bigos is flavored with mushrooms, onions, and meat. Lots and lots of meat. As in, like, at least 3 different kinds – bacon and sausage are a must. But honestly, you don't need all that meat to make a delicious, satisfying bigos. I think my version is just as good, and my more traditionally-inclined family members never seem to complain that there's anything missing.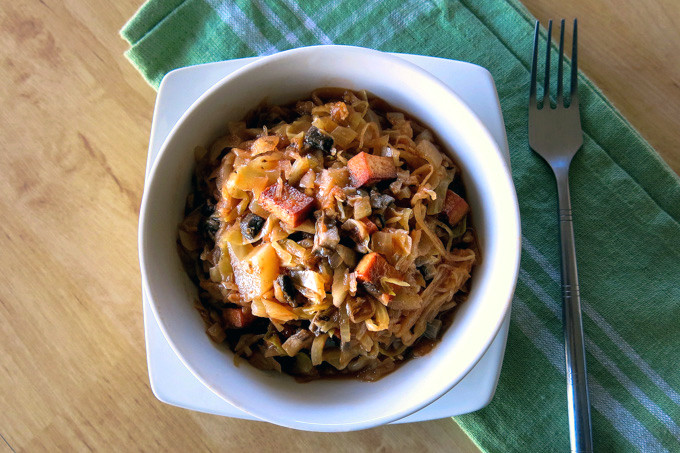 Bigos is made on a base of fresh green cabbage, sauerkraut, onions, and mushrooms. I've flavored it with whole allspice, juniper berries, marjoram, paprika, and tomato paste. And when I want to give it that meatiness, I add some of my crisped smoked tofu. Oh boy is it good.
This stew can be served as main dish with a slice of crusty bread or as a side with another entree. It's great with potatoes. Traditionally, bigos is prepared at least a day in advance, as the flavor improves with additional time in the fridge. When I make it, I make a huge batch in the slow cooker, so that it can simmer all day and I have plenty left over to throw in the freezer. It freezes beautifully, and is so easy to pull out and reheat on a cold, wet winter day when you just need something savory and warm.
Bigos: Polish Hunter's Stew (Vegan)
A delicious, savory, sauerkraut, cabbage, and mushroom stew with plenty of rich, earthy flavors. This vegan version substitutes crisped smoked tofu for all the meat that bigos traditionally contains.
Author:
Magda | ideliciate.com
Ingredients
1 head green cabbage, chopped
4 cups water
4-5 bay leaves
2 tablespoons olive oil
3-4 onions, chopped (about 6 cups)
12-14 ounces cremini mushrooms, chopped (about 4-5 cups)
1 whole head of garlic, minced
1½ teaspoons sea salt
2 teaspoons dried marjoram
1½ teaspoons paprika
½ teaspoon black pepper
8-10 whole allspice berries
6-8 juniper berries
4 cups sauerkraut, well drained
6 ounces tomato paste (1 small can or about 10 tablespoons)
*For Crisped Smoked Tofu (optional):
1 block smoked or extra-firm tofu, drained and pressed if necessary (about 8-12 ounces)
vegetable oil
liquid smoke
tamari
Instructions
Place chopped cabbage into a large pot or slow cooker, add bay leaves, and pour water over the top. Bring to a gentle boil over high heat, then reduce heat and allow to simmer gently. (If using a slow cooker, I like to use hot or boiling water to get it started more quickly.)
Heat olive oil in a large skillet over medium-high heat, then add the chopped onions, mushrooms, garlic, and salt and saute for 3-5 minutes, until onions start to become soft and translucent. Turn off heat and stir in marjoram, paprika, and black pepper. Add to the pot of cabbage along with the allspice and juniper berries and stir gently to combine.
Once the cabbage is tender, add the sauerkraut and tomato paste and stir well until all ingredients are thoroughly combined. Continue to simmer over low heat for at least 30-45 minutes or as much as several hours. Season to taste and add smoked tofu if desired.
*To Make Crispy Smoked Tofu (optional):
Chop the tofu into small pieces. Add a few tablespoons of vegetable oil to a large skillet over medium-high heat. When oil is hot, add the chopped tofu. Drizzle tamari and liquid smoke generously over the tofu so that all of it is well coated, then fry for 5-8 minutes until crispy, tossing the tofu every so often to brown all sides.
Notes
*To make this dish paleo or soy-free, simply omit the tofu.