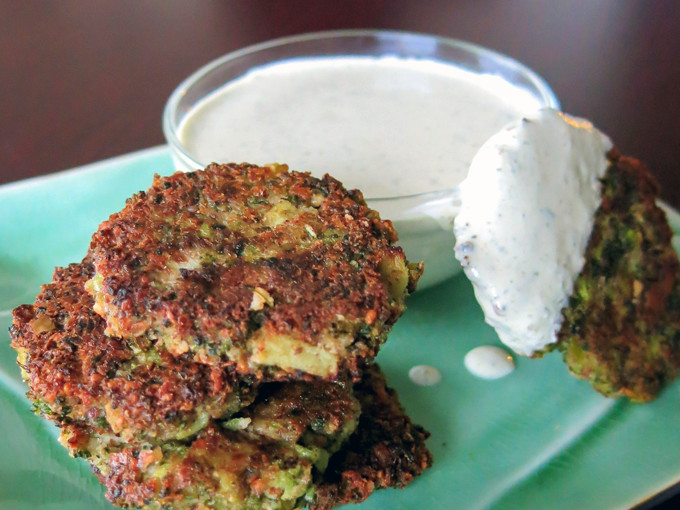 Confession: I love fritters. No, I'm not sure you get it… I really love fritters. It's a problem.
See, fritters are usually held together with plenty of eggs or flour, both of which I try to avoid.
But not these babies. These broccoli fritters are held together with almond butter, so they're loaded with protein. They're not only gluten-free but also completely grain-free, which makes them paleo-friendly. And they've got no eggs, so they're vegan as well. Check, check, aaand check.
(I absolutely love it when I can make something both paleo and vegan, since the two camps often act as though they're sworn enemies… Can't we all just get along? Here, have a broccoli fritter.)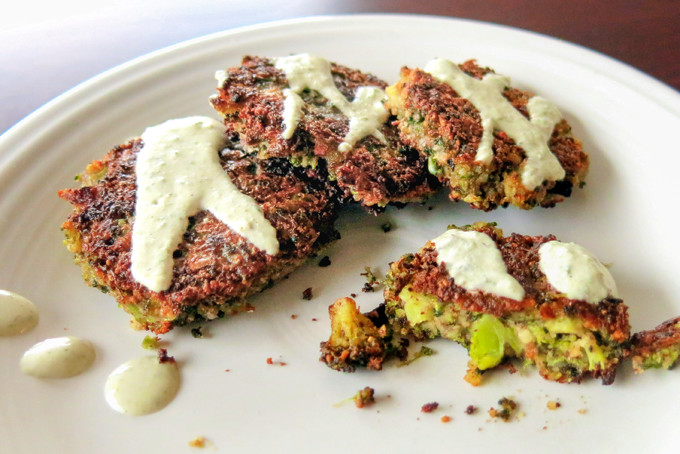 Oh, and did I mention the sauce is equally amazing? It's a cashew-based sauce that is rich and creamy without any dairy. The tartness of the lemon and the earthy, anisey flavor of the tarragon complement the broccoli and almonds perfectly. Yum. (Don't have tarragon? Try using some lemon thyme instead!)
Want to try them with another sauce? Anything with a little bit of acidity goes really well with these fritters. I've had them with both ketchup and a sweet French dressing and they were delicious. Whip up a batch and let me know how you eat them.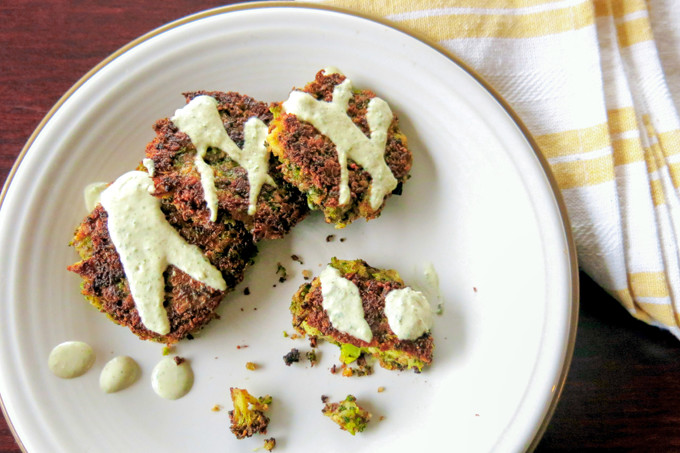 Broccoli is loaded with antioxidants and nutrients. But did you know that broccoli can lose up to 80% of its nutrients in the time it takes to get it from the farm to the distributor to the grocery store to your fridge (a process that usually takes at least a week)? Broccoli is one of those vegetables you should buy and eat as soon as possible after being harvested. If you can, pick some up at your local farmer's market to ensure that it's fresh.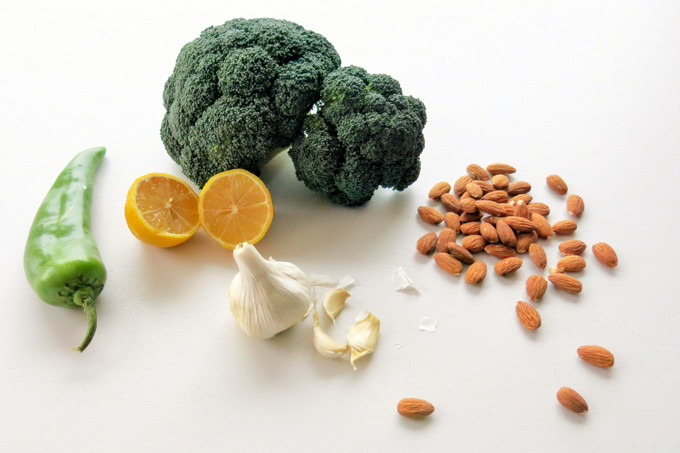 Broccoli-Almond Fritters with Creamy Lemon Tarragon Sauce (Paleo, Vegan, & Gluten-Free)
These fritters are fast, easy, healthy, and delicious. Serve as an appetizer or along with a green salad for a quick dinner.
Author:
Magda | ideliciate.com
Ingredients
SAUCE:
½ cup raw cashews, soaked at least 45 min or overnight and drained
½ cup water
1-2 cloves garlic
1½ tbsp lemon juice
2 tsp dried tarragon (or 2 tbsp chopped fresh tarragon)
¼ tsp sea salt
FRITTERS:
2 medium heads of broccoli
¼ cup minced Anaheim chile pepper
2 tsp minced garlic (about 2-3 cloves)
1½ teaspoons lemon juice
¼ teaspoon sea salt
½ cup unsalted almond butter
2 tablespoons olive or avocado oil for frying
Instructions
To make the sauce:
Place all ingredients in a blender and blend until smooth. Adjust seasoning to taste.
To make the fritters:
Bring a pot of water to a boil, then place the broccoli in a steamer basket and steam for 3 minutes. The broccoli will be just tender but still bright green. Remove broccoli from heat, allow to cool slightly, then finely chop the florets.
Place 1½ cups of the finely chopped steamed broccoli into a medium mixing bowl and add the minced chile pepper, garlic, lemon juice, and salt. Mix together until well combined, then add the almond butter. Mix until the almond butter is thoroughly incorporated into a thick paste-like dough.
Scoop out 1-tablespoon balls of the dough onto a plate or waxed paper. (I use a small #50 ice cream scoop to make this go super fast.) Next, flatten the balls into patties.
Heat the oil in a large skillet over medium-high heat until a drop of water sizzles on top, then add the fritters. Cook 2-3 minutes on each side, or until crispy and deep golden brown in color. Remove, drain on paper towels, and sprinkle with additional salt if desired. Serve immediately with lemon-tarragon sauce.
Notes
-These fritters are mild in flavor. If you like more heat, use a spicier green chile pepper such as a Jalapeño or Serrano, or double the amount called for in the recipe.
-Use fresh tarragon for a pretty, bright green sauce.