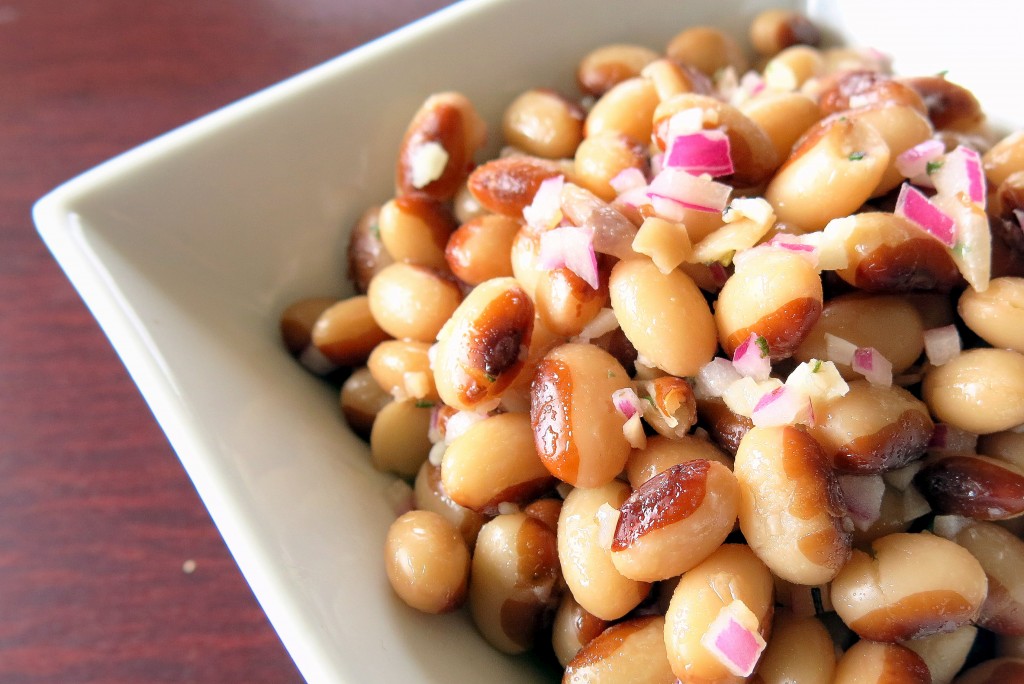 This bean salad is so simple, but so, so good. It's nothing too fancy, but it totally works – a little bit of onion and garlic, some oil and vinegar, a fresh herb, and some salt and pepper. How can you go wrong with that? With just a few ingredients, it really showcases the beans, so I recommend using a good-quality bean. You can use any type of bean you like – I used a mild-flavored, heirloom variety called Steuben Yellow Eye (or Butterscotch Calypso). 
Beans are good for your heart after all… They are loaded with fiber, including the soluble fiber that's great at lowering cholesterol. They're also rich in folate and magnesium, both nutrients that can significantly reduce your risk of having a heart attack and cardiovascular disease in general.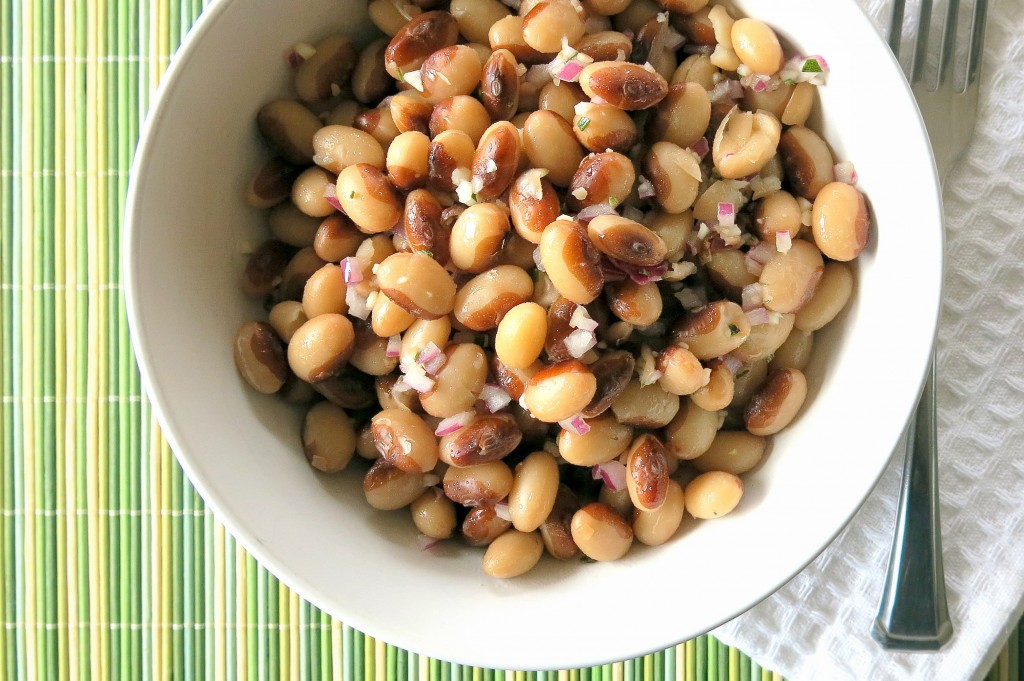 I've included how to cook the beans from scratch in the recipe because I not only think they're healthier and more delicious when you make them yourself, but they're also much less expensive (not that beans are at all costly to begin with). But you can just as easily use canned beans, which makes this salad super quick to throw together.
And it's a great make-ahead dish for a dinner or potluck. Another big bonus? This salad is made up of only a few ingredients that can readily be found in most pantries, so it's one of those standby recipes for when the fridge is looking a little bare and you can't seem to make it out to get groceries. I know I've had my fair share of those kinds of days lately…

Easy Bean Salad
A simple, delicious bean salad you can throw together with just a few ingredients from the pantry.
Author:
Magda | ideliciate.com
Ingredients
3-4 cups cooked beans
3 tablespoons extra virgin olive oil
1 tablespoon white wine vinegar
3-4 tablespoons minced red onion or shallot
2 teaspoons minced garlic
1½ teaspoons minced fresh rosemary
Salt and pepper to taste
Instructions
When starting from dry beans, use about ⅓ of the amount of cooked beans called for (so for this recipe, 1 to 1⅓ cups of dry beans). Rinse and pick through your dried beans, place into a large pot, then cover by about 2 inches of cold water. Soak overnight or for 24 hours. Alternately, you can also bring the beans to a boil for several minutes, then remove from heat and allow to soak, covered, in the warm water for 2-3 hours. Drain, rinse, and then refill the pot with cold water, covering again by about 2 inches (I like to add a few bay leaves). Bring to a boil over high heat, then reduce heat to a simmer. When beans start to become tender, add a large pinch of salt. Continue to cook until beans are soft, checking on them every 15-20 minutes, and making sure not to overcook.
While cooking beans, combine remaining ingredients in small bowl and set aside. When beans are done cooking, drain them, transfer to a medium bowl, and add the other ingredients. Toss gently to combine. Season to taste.