I kind of love Noodles & Company. Like, did you know that they have two different kinds of gluten-free pasta that they will substitute into a number of dishes at no extra charge? Yeah, they do. It's awesome. They're also one of the few big chains that use whole, fresh ingredients without unnecessary additives, and they offer a lot of healthier options.
I've sampled all of their dishes that can be made gluten-free, and while they're all delicious, I'm still hooked on the very first dish I ever tried there: the Tuscan fresca.
That pasta fresca is really, really good. It's a penne pasta (or if gluten free, a corn fusili or rice noodle) with red onion, tomato, and spinach, a sauce made of balsamic, olive oil, white wine and roasted garlic, and topped with parmesan or feta. As much as I'd love to get one for lunch most days of the week, that's not exactly practical. So I became determined to make my own.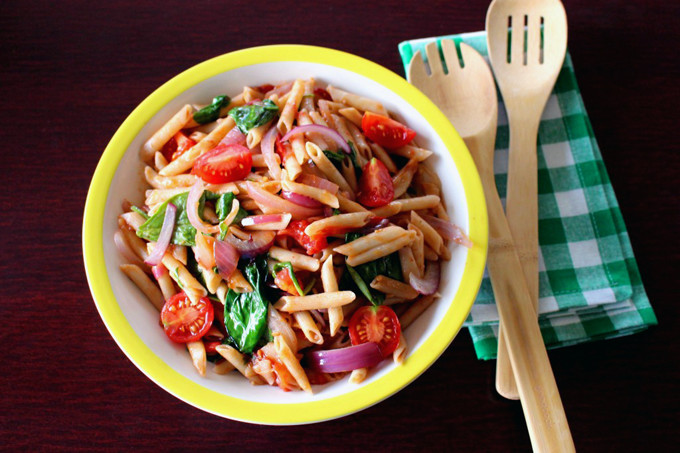 And I have to say, I think I came pretty damn close. Making my "copycat" version at home will not only save you some cash, but it also makes it super easy to customize the dish to your own preferences. More veggies, maybe? Less oil? A little bit of extra heat? Whatever you like! Anything goes when you make it at home. Feel free to add whatever vegetables are in season and have fun with it!
The sauce is so simple, but it's absolutely delicious – it's definitely the star of the show in this recipe. It keeps for quite a while in the fridge, so I like to make larger batches of it that I can pour over freshly cooked pasta or use as a salad dressing later in the week.
I can't get enough of this pasta. It's honestly one of my most favorite meals. Try it out – I promise you'll love it!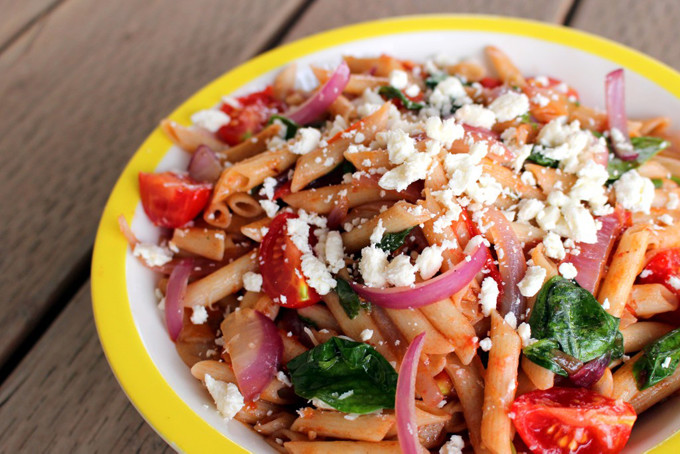 Pasta Fresca (Noodles & Co. style)
This pasta dish, inspired by Noodles & Company's Tuscan fresca, is quick to make at home and easy to customize just the way you like it. Penne pasta is sauteed with red onion, tomato and spinach and topped with a sauce made from balsamic vinegar, olive oil, white wine, and plenty of garlic.
Author:
Magda | ideliciate.com
Ingredients
Sauce (makes 1 cup or enough for about 4 batches of pasta)
¼ cup olive oil
1 bulb garlic, minced (about ¼ cup)
¼ cup balsamic vinegar
¼ cup sweet white wine (I used a moscato)
¼ cup extra virgin olive oil
1 teaspoon sea salt
pinch of fresh ground black pepper
Pasta
1-2 tablespoons olive oil
½ of a red onion, sliced (about 1 cup)
3-4 cups cooked pasta (I used a gluten-free brown rice penne)
1½ cups chopped tomato
2 cups baby spinach
salt & pepper to taste
feta or parmesan to top (optional)*
Instructions
Sauce
Pour ¼ cup of olive oil into a small saucepan with the minced garlic. Gently heat over medium-low heat for several minutes until garlic sizzles and just begins to color, then immediately remove from heat. (You don't want it brown, just a nice golden color.)
Combine the garlic-infused olive oil with the balsamic, white wine, extra virgin olive oil, and sea salt. Whisk well to combine and set aside.
Pasta
Heat 1-2 tablespoons of olive oil on a large skillet or saucepan over medium-high heat, then add the sliced red onion. Saute for about one minute or until onion starts to soften slightly.
Add pasta and diced tomatoes and toss gently to combine, cooking for another minute or two, just until pasta is heated throughout.
Remove from heat, then add spinach and pour ¼ cup of the sauce over the pasta. Toss gently to combine until spinach is wilted and sauce is well distributed. Season to taste and top with feta or parmesan, if desired.
Enjoy!
Notes
*To make this dish vegan, omit the cheese or top with tofu feta.