Here's another quick and easy recipe for you… a totally dairy-free and vegan feta cheese substitute! Feta is my all-time favorite cheese. And while I won't promise that it tastes just like traditional feta cheese, this tofu feta is tangy and salty and crumbly just like the real thing. It's packed with protein and calcium and tastes great sprinkled on salads or pizzas. Try it for yourself!
A serving of tofu is not only a really, really good source of protein but it's also got over 75% of your recommended daily intake of calcium, which we all know is important for bone health. We also think we know that dairy products are the best source of calcium to prevent against bone loss and osteoporosis, but many recent studies have been finding that the opposite is actually true – higher dairy consumption is correlated with higher rates of osteoporosis. So get your calcium from plant foods instead. Your bones (and your heart) will thank you.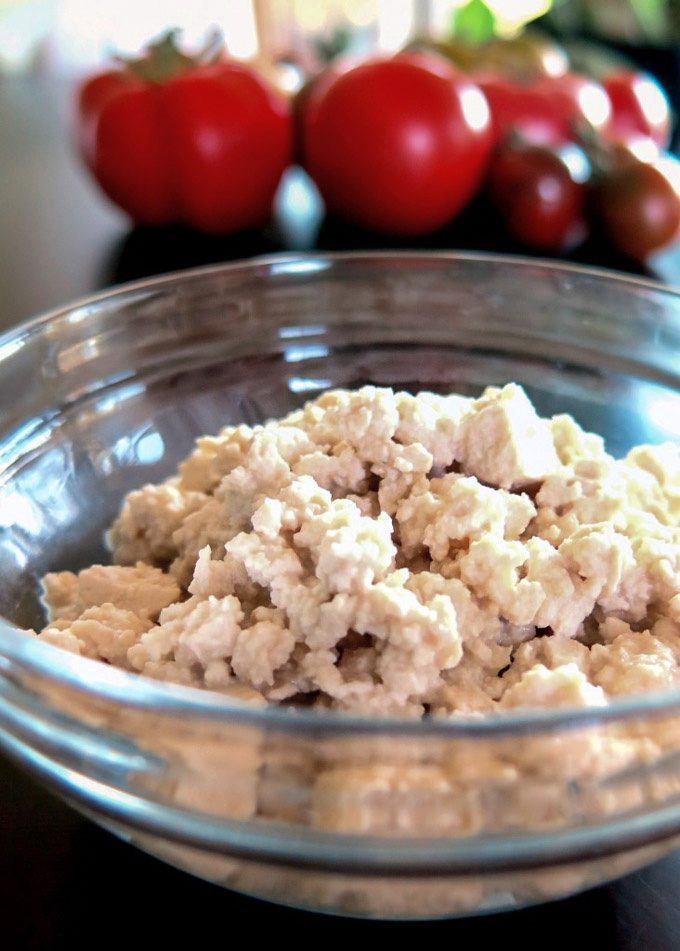 Tofu Feta (Dairy-Free & Vegan)
A 100% plant-based substitute for feta cheese that's crumbly, salty, and tangy like the real thing. Made with seasoned tofu, it's very high in protein and calcium.
Author:
Magda | ideliciate.com
Ingredients
6 ounces extra-firm tofu
2 ½ teaspoons white miso paste
1 tablespoon water
½ teaspoon apple cider vinegar
½ teaspoon lime juice
¼ teaspoon sea salt
Instructions
Press excess liquid from the tofu, then crumble into a medium bowl.
In a small bowl, dissolve the miso paste into the water with a fork. Add apple cider vinegar, lime juice, and sea salt and whisk until salt dissolves and the mixture is thoroughly combined. Pour the liquid over the crumbled tofu and gently toss to coat the tofu evenly.
Taste and adjust seasonings as necessary to get the desired flavor.
Notes
The tofu feta should be used soon after it is made, as the tofu absorbs the seasonings with time and the flavor will disappear after a night in the fridge. If this happens, simply re-season the tofu to taste. Feel free to add more salt or acidity as desired.