Hey, so I know it's been a while, but remember my recipe for that Black Rice, Beet, and Berry Salad with a Citrus-Ginger-Miso Dressing? That was an adaptation from Anya Kassoff's cookbook The Vibrant Table: Recipes from My Always Vegetarian, Mostly Vegan, and Sometimes Raw Kitchen
. Way back when, I promised y'all a review of that cookbook, and, well… better late than never, right?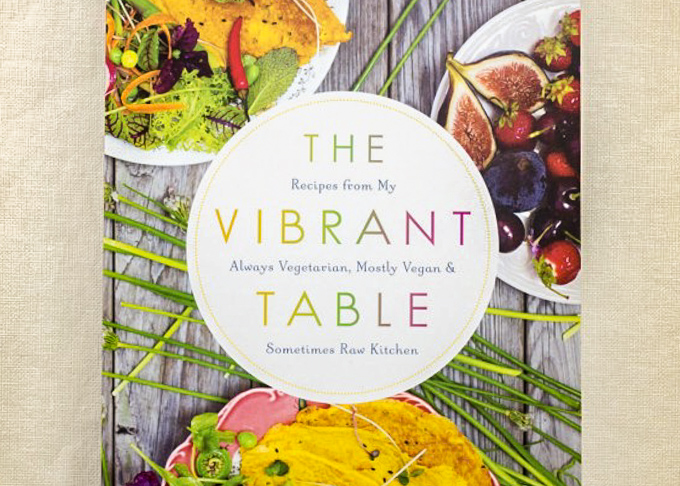 I'm going to be honest with you, I don't typically follow recipes when I cook. And when I do cook from recipes, I don't usually make my way through just one book at a time. I have a hard time sticking with the script and not doing a little bit of improvising of my own.
So I generally just flip through cookbooks to gather inspiration, whether it's for recipe ideas, a unique way of plating something, or a new way to use an ingredient. I especially drool over cookbooks with eye-catching, colorful food photography. And that is definitely an area in which this cookbook does not disappoint.
The photographs in this book (oh my god, the photographs…) are simply stunning. Stun. Ning. It's a cookbook you want to leave out on the coffee table. In a nod to the title of this book, the food that's pictured in these pages can only be described as vibrant. The food photography is really exceptional (I have so much to learn!) and the mouthwatering photos instantly sell you on the food. I dog-eared so many pages of recipes I wanted to try because the photos legit had me drooling.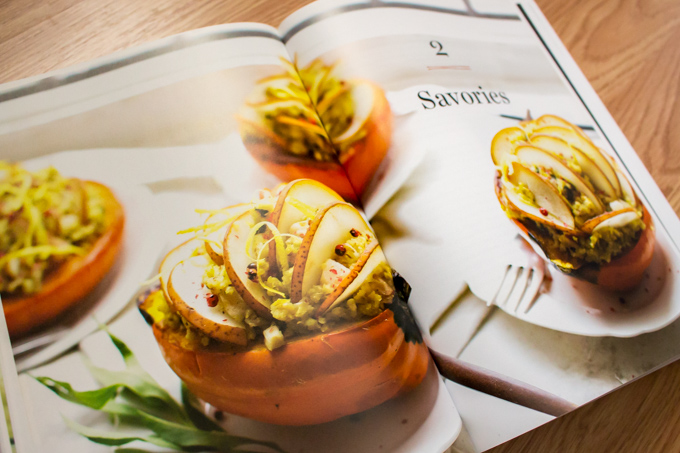 The recipes themselves are deliberately healthful and nutritious and often pretty unique, featuring flavor combinations I'd never considered before and ingredients I don't often use. Like the book's subtitle suggests, all of the recipes are vegetarian and most are also vegan and gluten-free. That's great for the truly health-conscious cook!
However, most of the recipes featured in this cookbook are on the complex side. They often involve a long list of ingredients, some of which may be hard to find in your average grocery store. The instructions, while thoughtfully detailed and thorough, frequently take up more than one page, which can be intimidating for less experienced cooks. The majority of the recipes are neither simple nor quick or easy to make. So you'll have to be a little adventurous with this one.
I adapted one of the recipes from The Vibrant Table here on the blog. The Miso and Raspberry Forbidden Rice Salad was a pretty tasty and unique combination of ingredients that ended up being crazy, insanely nutrient dense. Like, holy hell, those nutrition facts though! That salad was beautiful, nutritious, and tasty (although it proved to be a little too daring for my pint-sized taste testers to want more than a bite of).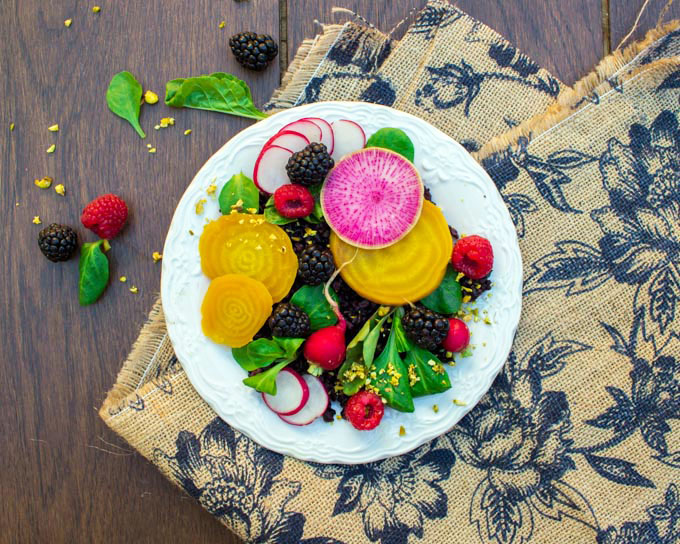 I was hoping to share more recipes from this cookbook but unfortunately, the other recipes I tried were underwhelming. I thought that the Fingerling Potato and Rosemary Flatbread Pizza fell flat flavor-wise, even though I took the liberty to add some extra herbs and spices. I also found the Beet and Buckwheat Gnocchi to be regrettably bland as well as texturally unappealing. I wanted to love the Earl Gray Poached Pears with Hazelnut Panna Cotta, but the mouthfeel of the non-dairy panna cotta was quite off-putting. And the Butternut Squash and Sage Fritters, which sounded like they'd be a home run, were good… but not great. While my disappointment may certainly have been due to a matter of personal taste, I felt that the flavors simply didn't justify the amount of time and effort that these dishes took to make.
In my personal cooking philosophy, I tend to strive for a balance between nutrition, flavor, and ease of preparation. While all of recipes in The Vibrant Table are incontestably nutritious, they tend to make it at the expense of either the overall flavor or else the time and ease of preparing them. Although I realize that flavor preferences are purely subjective and can often be easily remedied by making adaptations to suit your specific tastes, I don't feel that many of the recipes in this book would please picky eaters. And while I love the emphasis on nutritious plant-based foods, I think that it's not exactly the most beginner-friendly cookbook for those new to cooking or eating a more plant-based diet.
That being said, not all of the recipes are super complex, and many are undoubtedly delicious. The introduction of the book features some really great information about the specific healthful ingredients that the author uses in her cooking. She also includes some excellent basic recipes for ingredients such as homemade ricotta cheese, almond milk, and vegetable broth. The Vibrant Table is a well-written, thoughtfully composed cookbook for any intrepid health-conscious cook with an adventurous palate and the patience and know-how to tackle its unique recipes. And if nothing else, it's definitely worth checking out even if only for its stunning photographs. If you're into that kind of thing.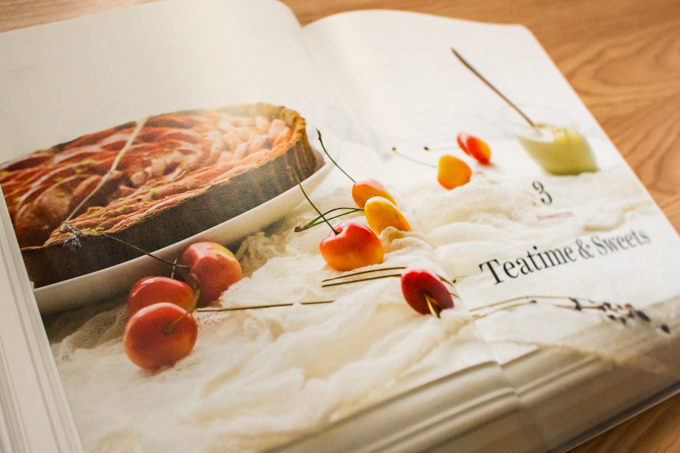 With all that being said, I was still totally inspired by this cookbook. You guys need to check out Anya Kassoff's recipes on her beautiful blog, Golubka Kitchen. I dare your mouth not to water.
The Nitty Gritty on The Vibrant Table
What I Love:
Absolutely stunning food photography (like, seriously, wow)

Truly unique, one-of-a-kind recipes that are very nutritious

Recipes are all vegetarian, and mostly vegan and gluten-free
What I Don't Love:
Recipes are often complicated and time-consuming, and may be intimidating for beginning cooks

Firmly entrenched in "health food" territory, many recipes probably won't please picky eaters or those new to eating a plant-based diet
…
This post contains Amazon affiliate links for the reviewed product. (When you click on one of the links and make any purchase from Amazon, I get a tiny kickback at absolutely no charge to you. If you've gotten anything of value from this site and want to say "thanks," you can click through to Amazon from one of these links and any purchase you make will help support my blog. Thank you!)