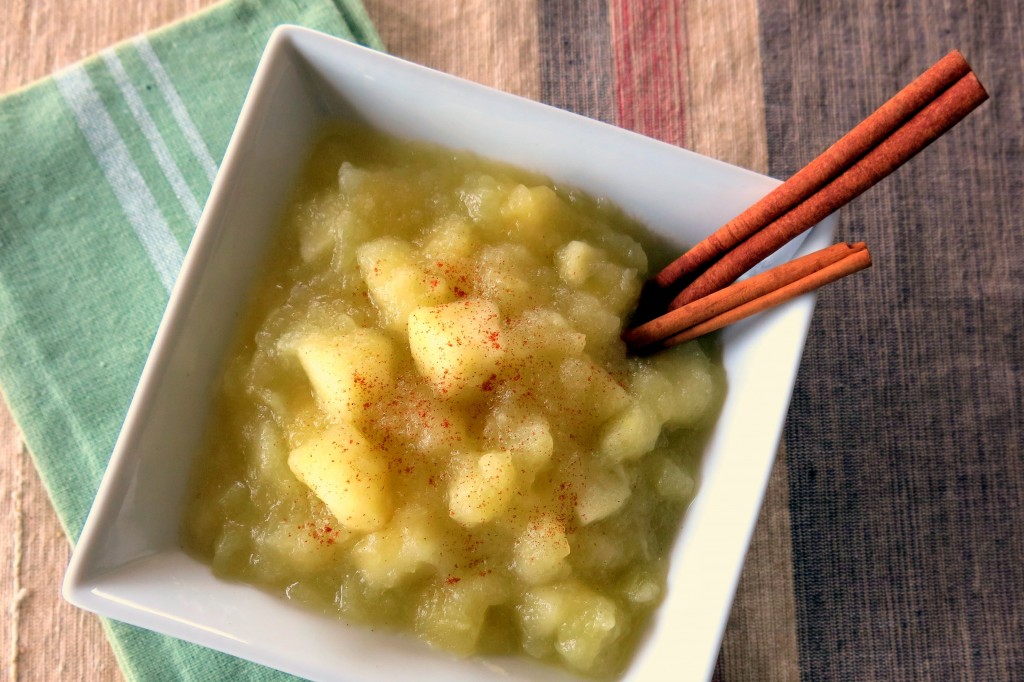 Not only is it really easy to make applesauce from scratch, but it's much healthier as well. You can use your favorite varieties of fresh apples and control exactly how much sugar goes into it, if any. My version doesn't have any added sugar whatsoever, and I find that I don't miss it at all. I love that you can really taste the flavor of the apples. Personally, I like a good amount of tartness in my applesauce, but if you prefer a sweeter sauce, just use sweeter apple varieties or throw in a ripe pear to sweeten it up. You can also use fresh fruit juice or apple cider in place of the water for additional sweetness and flavor.
I used both Granny Smith and Braeburn apples for this particular applesauce, but I find that I use a different combination of varieties almost every time I make it. It's such a simple recipe that it's fun to experiment with the flavors and ingredients with every batch. Try adding some different spices like nutmeg or cardamom or throwing in some freshly grated ginger. There's really no limit to what you can do with this applesauce. Have fun with it!
Apples are full of good-for-you polyphenols that act as antioxidants and anti-inflammatories as well as help to protect against certain cancers. Studies have shown that apples can also significantly reduce the risk of asthma. You know what they say about an apple a day…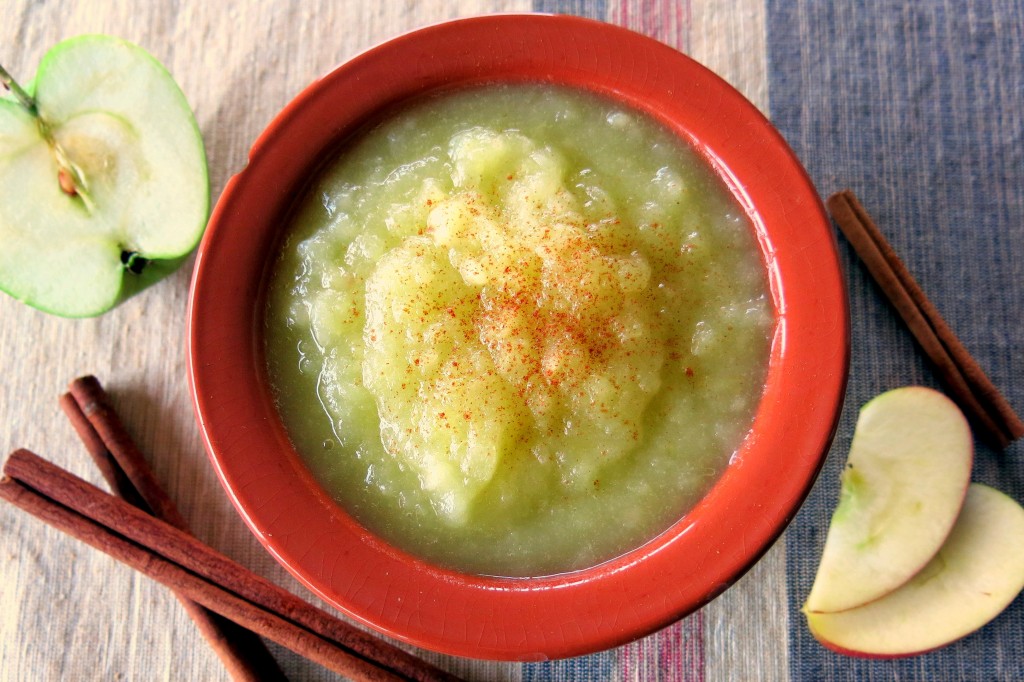 Quick & Easy Homemade Applesauce
This simple, sugar-free applesauce is full of flavor and couldn't be easier to make.
Author:
Magda | ideliciate.com
Ingredients
8 medium apples
⅔ cup water
2 tablespoons lemon juice
1 teaspoon cinnamon (optional)
⅛ teaspoon salt
Instructions
Wash, peel, and core your apples. (Leaving some peel on is optional and makes for a thicker sauce with some more texture.) Cut apples into small 1- to 2-inch chunks (smaller pieces will cook faster).
Place apples in a medium saucepan, add remaining ingredients, and toss well to combine.
Bring the mixture to a boil over high heat, then bring the temperature down to low and simmer for 20-30 minutes, stirring occasionally, until apples are very tender and saucy. Mash with a potato masher for a smoother consistency or leave the applesauce chunky, as desired.
Notes
For a sweeter sauce (but without adding sugar), use sweeter varieties of apples, add in a ripe pear, and/or use fresh fruit juice or apple cider in place of the water in this recipe.