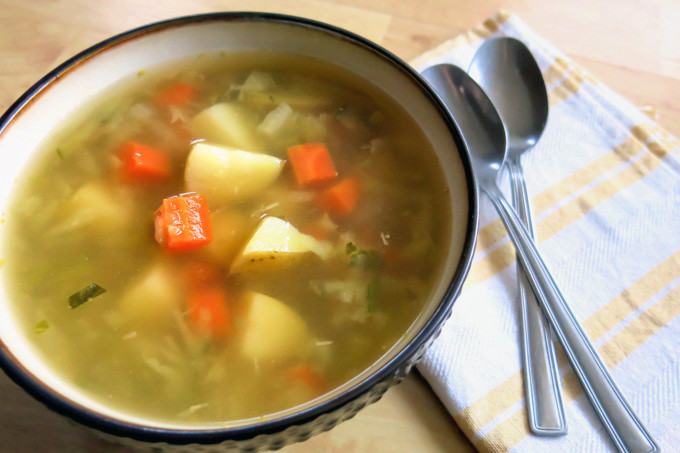 This is my vegan version of a classic Polish soup. Pickle soup! Okay, I know it might sound a little weird, but this soup is so good. If you like pickles, you'll love this soup. It might sound weird, but just try it. Seriously, just try it. What's great is you don't even really have to go out of your way to make it… No fancy ingredients or slaving away over the stove for an hour, or even dealing with lots of dishes after… This is a one-pot soup that is so fast and easy to make, it's not even funny.
It's just some classic vegetables and potatoes cooked in a bit of broth and flavored with… well, pickles. Why do I feel like I'm not really selling this soup too well?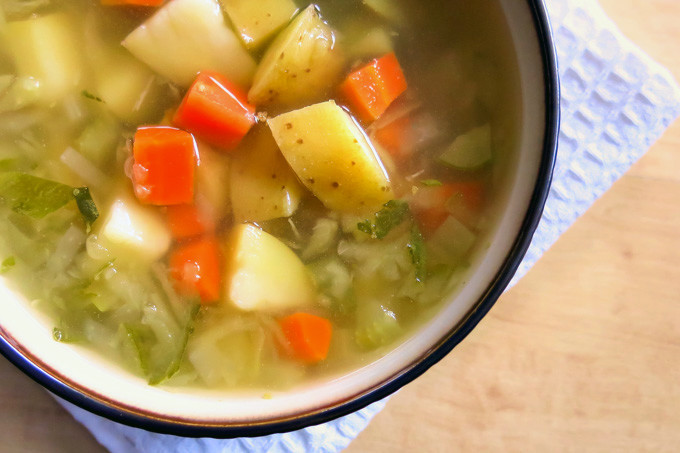 Pickle soup is traditionally topped with sour cream and fresh dill or parsley. You can make it creamy and still keep it dairy-free, vegan, and paleo by stirring in some cashew cream. I didn't add anything this time because I think it's absolutely delicious all on it's own. Okay, and I kind of didn't have anything else on hand, but it really is delicious as it is, I promise.
I should specify that you have to use dill pickles for this soup. You have to. None of that sweet pickle nonsense. And you really should just make sure they're kosher dill pickles. I mean, come on, is there really any other kind? I use the refrigerated Claussen kosher dill pickles, and I always get the halves because, for some reason, they're the only ones without corn syrup in them. And if you can, use Yukon Gold potatoes. Yum.

Quick & Easy Polish Pickle Soup (Vegan)
A vegan and paleo-friendly version of a traditional Polish dill pickle soup. Prepping and chopping the remaining ingredients as the potatoes are cooking saves on prep time, making this a very fast and easy soup to make.
Author:
Magda | ideliciate.com
Ingredients
8 cups vegetable broth
1½ pounds potatoes*
1 rib celery
2 carrots
1 small or ½ a medium onion
4 large dill pickles
½-3/4 cup dill pickle liquid, or to taste
Instructions
Scrub potatoes well and peel if desired, then chop into bite-sized chunks. Place in a large pot and pour the broth over the top. Bring to a boil over high heat, then lower heat and allow to simmer as you continue to chop and add the vegetables.
Dice the celery, then peel and chop the carrot. Add to the soup.
Finely chop the onion and add to the soup.
Grate the pickles on a coarse cheese grater or chop them finely. Once potatoes and carrots are tender, add the pickles and pickle juice to taste. Simmer for a few minutes, then remove from heat.
Notes
*Any kind of potatoes are fine, but yellow or red potatoes work best in this soup. Yukon Golds are preferred.
**Stir in some sour cream or cashew cream to make this soup a bit richer, if desired, and garnish with fresh dill or parsley.