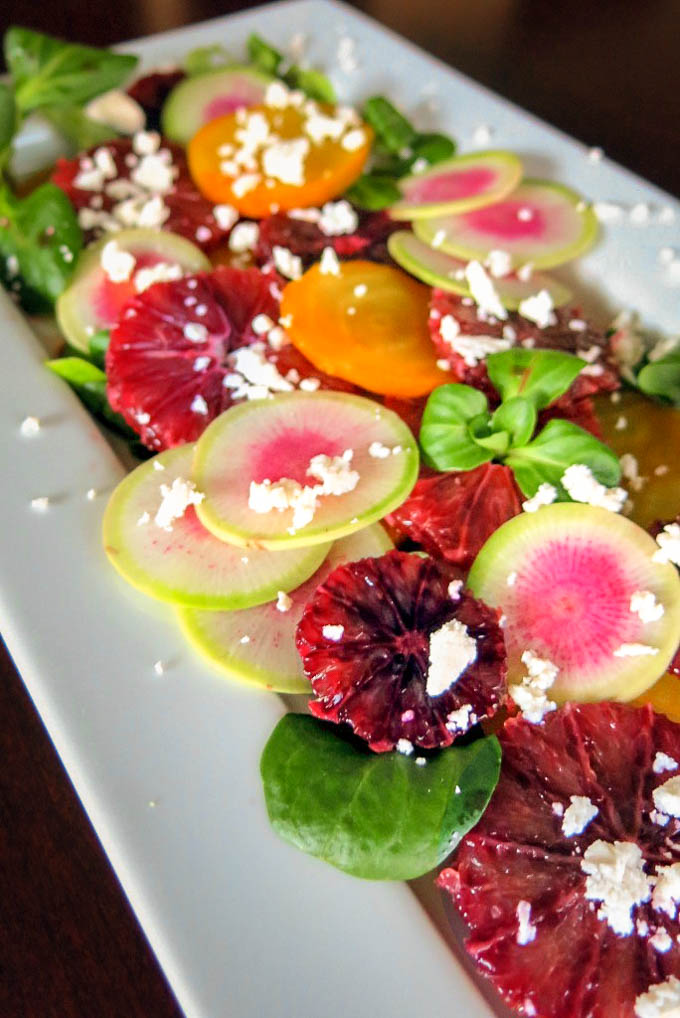 I'm a little bit obsessed with blood oranges. Are they not gorgeous? I'm such a sucker for bright, vivid colors.
Speaking of bright colors… I'm finally starting to see some. The spring flowers are coming up, the daffodils are just starting to bloom, and even the sun is making the occassional, yet still rare, appearance! I guess the groundhog was right this year – I think we're due for an early spring. *Insert sigh of relief here.* I'm so ready for it.
I can not wait for spring to get here. But in the meantime, I am just trying to make the most of the winter foods that are still in season – root vegetables and citrus fruits among them.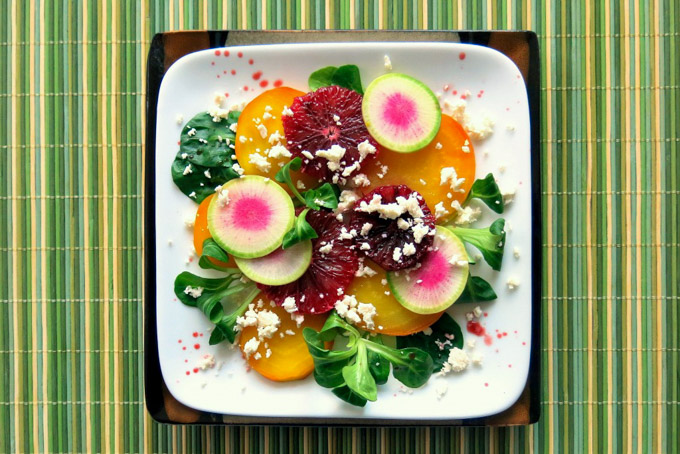 This is a vibrant, delicious winter salad made from seasonal fruits and vegetables. I just love the sweet, earthy flavor of roasted beets, and I find that they pair perfectly with the acidity of citrus. I've flipped the colors in this salad with dark purple oranges and golden yellow beets, but you can also use the more traditional red beets and navel oranges.
The dark purple flesh of blood oranges is due to the presence of anthocyanins. Anthocyanins are antioxidants with anti-inflammatory and neuroprotective properties. They also look pretty.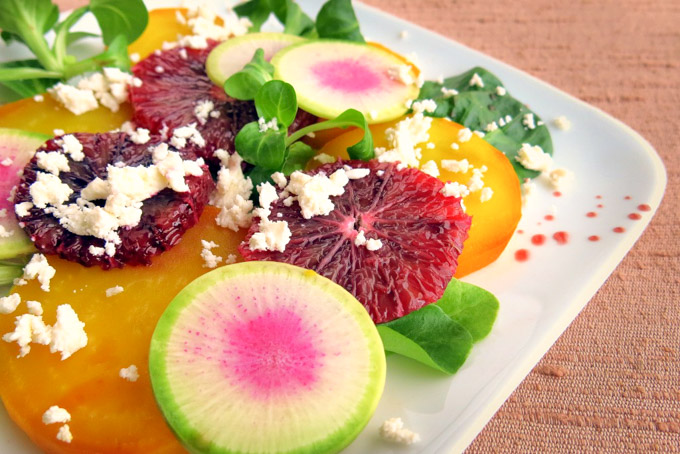 Want to make this salad vegan? You can use tofu feta instead!

Roasted Beet & Blood Orange Salad
A delicious and colorful winter salad. Roasted golden beets are combined with tart-sweet blood oranges, crisp radishes, and tender mache.
Author:
Magda | ideliciate.com
Ingredients
4-5 small golden beets
3 blood oranges
3-4 small radishes (I used watermelon radishes)
2 cups mache
3-4 ounces feta or tofu feta
¼ cup blood orange juice (about ½ an orange)
1½ teaspoons red balsamic vinegar
1 tablespoon finely chopped shallot (optional)
⅛ teaspoon sea salt
Instructions
Preheat oven to 400 degrees Fahrenheit. Scrub beets well, then wrap each beet in aluminum foil and roast for 60-90 minutes until tender. Remove from oven, unwrap, and allow to cool slightly.
To make the vinaigrette, combine the blood orange juice, balsamic vinegar, salt, and chopped shallot, if using. Whisk well.
When beets are cool enough to handle, peel off skin, then slice or chop into bite-sized pieces. Peel, then slice or chop blood oranges. Slice radishes thinly.
Place beets, blood oranges, and mache in a large salad bowl, drizzle vinaigrette over the top and toss well to combine. Top with sliced radishes and crumbled feta.