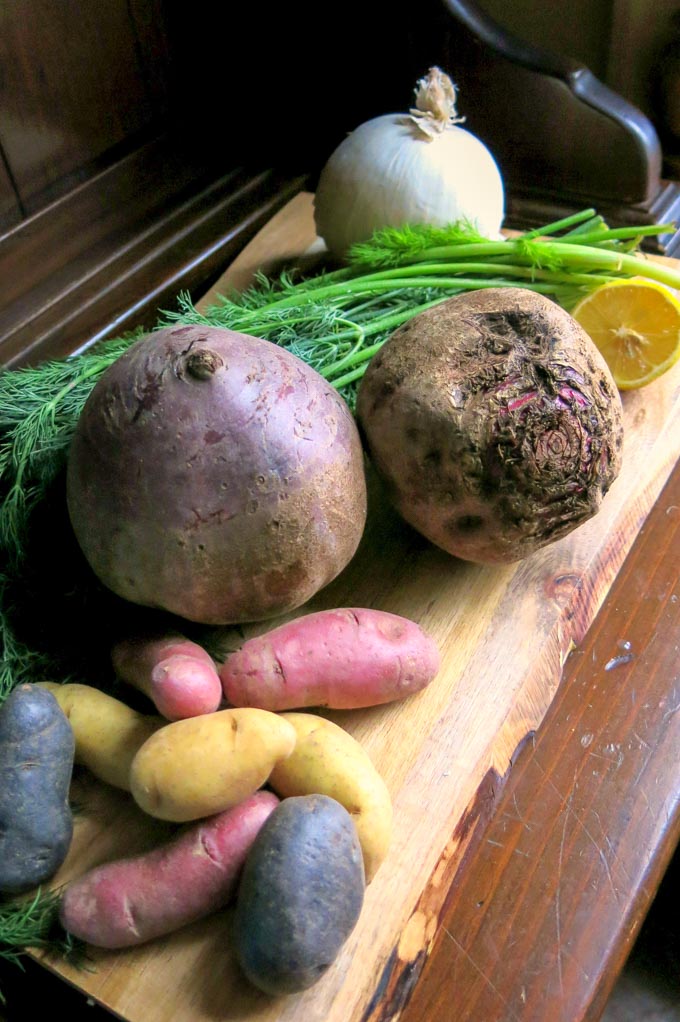 My parents are both from Poland, so I grew up eating borscht (or barszcz in Polish). I always liked it as a kid, but now I love it. Borscht is one of my favorite soups, especially in the winter months and around the holidays. I just love the rich, sweet and sour flavor and how easy it is to make. And that bright, vibrant color gets me every time. No matter how often I make it, I can't seem to ever get sick of it.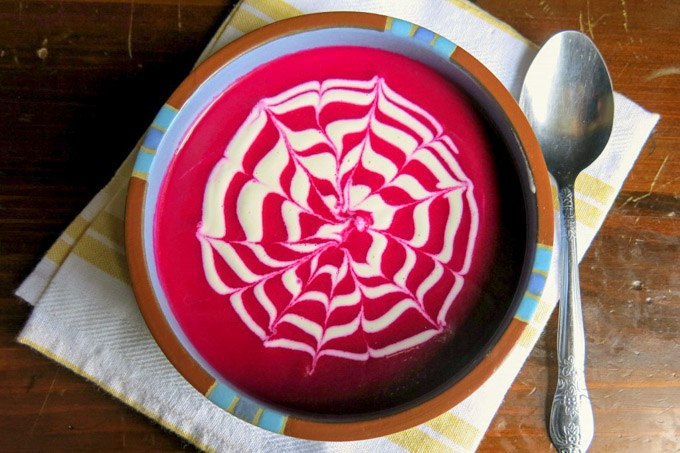 There are just so many ways to make and eat borscht. For our big Christmas Eve dinner, we traditionally drink hot, clear borscht from tea cups with our meal. Sometimes we make a chunky borscht with potatoes, hard-boiled eggs, and even beans. There's also a version of this soup called botwinka which uses the beet greens along with the roots. Some recipes include mushrooms, cabbage, or other root vegetables, and others call for a beet sour made by allow beets to ferment for a few days. And less traditional but also delicious, you can simply purée everything together for a thick and creamy soup.
My version keeps it simple. I use roasted beets, a white onion, plenty of dill, and a bit of lemon juice. And that's pretty much it. You don't really need much else, but you can dress it up with some potatoes, sour cream, cashew cream, or even half a hard boiled egg if you like. (I highly recommend the cashew cream.) It's not a complicated soup by any means, and I love that about it, because the ingredients get to speak for themselves. You know exactly what you're eating.
The red color of beets comes from a group of phytonutrients called betalains, which have been shown to reduce the risk of cancer and cardiovascular disease. And the natural form of nitrate in beets can reduce your blood pressure. It can also significantly enhance athletic performance by increasing blood flow to your muscles and decreasing the amount of oxygen those muscles need during physical activity.
This is one of those soups that tastes even better the next day, so it's definitely a great make-ahead meal. Serve a big bowl for lunch or dinner or just a little bit as an appetizer.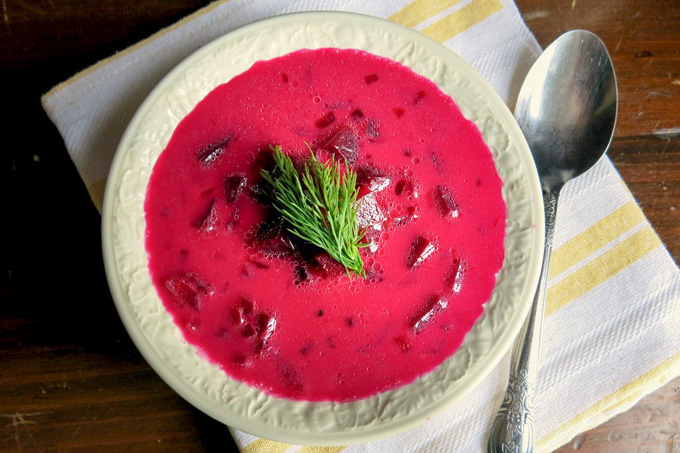 Roasted Beet Borscht
A simple borscht made from roasted beets, fresh dill, and lemon juice. A very healthy and versatile soup.
Author:
Magda | ideliciate.com
Ingredients
2-3 pounds beets
1 tablespoon olive oil (plus extra for roasting beets)
1 large white onion, diced
6 cups water
1 bunch fresh dill
1 teaspoon sea salt
juice of 1-2 small lemons*
cashew cream or sour cream (optional)
Instructions
Preheat oven to 400 degrees Fahrenheit.
Wash and scrub beets well and cut each in half. Brush some olive oil over each cut side and place cut side down on an oven-safe Pyrex dish or roasting pan. Roast for 45-60 minutes until beets are tender when pierced with a fork. Remove from oven and allow to cool slightly. Peel the beets and chop into small or medium sized pieces.
Tie the stems of your dill together with kitchen twine or cooking bands. Cut the ferny tops away from the stems.
Heat the olive oil in a large saucepan over medium-high heat. Add diced onions and sauté for 4-6 minutes until tender. Add water, chopped beets, your bunch of dill stems, salt, and lemon juice. Cover, bring to a simmer, and simmer for about 15-20 minutes until deep red and fragrant. Remove dill stems. Puree if desired or leave it chunky!**
Season to taste, and garnish with fresh dill. Mix in cashew cream if desired. Enjoy!
Notes
*Can't do citrus? You can substitute red wine vinegar for the lemon juice to taste.
**Leave this soup chunky or purée it for a thick, smooth soup. If you want to leave it chunky, it's great with some cooked, chopped potatoes thrown in!
-The flavor of this soup gets even better with time, so make this soup a day in advance or make a bit more so that you'll have leftovers!
Want to make this recipe vegan or dairy-free? Use my recipe for
cashew cream
– it's what I used, and it's absolutely delicious in this soup!